Digitizer Cards provide up to 8 channels.
Press Release Summary: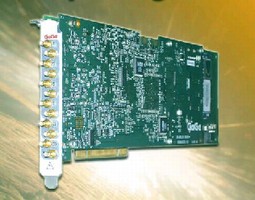 Octopus Digitizers offer 10-125 MS/s sampling per channel and up to 4 GB on-board acquisition memory on single-slot PCI card. Several cards can be combined in single system to provide up to 128 digitizing channels. Each card can have different number of channels, sampling speeds, and on-board memory. Typical high channel-count applications include particle physics, ultrasonic, and automotive testing.
---
Original Press Release:

GaGe's Low-cost Multi-channel Digitizers Now Available



Lockport, Illinois (April 3, 2006) - GaGe, a worldwide leader in design and manufacture of high-performance PC-based digitizer and oscilloscope cards, today announced that their new, highly anticipated, multi-channel Octopus(TM) digitizer cards are now available to order. The Octopus family of digitizers sets a new standard for PCI digitizers with up to 8 channels, from 10 to 125 MS/s sampling per channel, and up to 4 GB of on-board acquisition memory on a single-slot PCI card.

"There is currently no other PCI digitizer available on the market today that can provide the same combination of high channel-count, high sampling rate per channel and unbelievably deep on-board memory," said Eric Gillas, GaGe General Manager. "With pricing starting at less than $1,000.00 per channel, our prices can't be beat either," Gillas added.

For those customers that require large channel-count test systems, several GaGe Octopus cards can be combined in a single system to provide up to 128 digitizing channels. Each card can have a different number of channels, sampling speeds, and on-board memory, ideally suited for complex systems with multiple signals. Typical high channel-count applications include particle physics, ultrasonic, and automotive testing. GaGe's turnkey systems include a state-of-the-art ruggedized PC and any combination of GaGe CompuScope digitizer cards, such as the Octopus multi-channel digitizers, or CompuGen arbitrary waveform generator cards.

With more than 35 new digitizers to choose from and prices starting at less than $1,000 per channel, GaGe's new Octopus family of multi-channel digitizers is a flexible and cost-effective solution for applications that require a high-speed, high-resolution digitizer at the lowest price. "Now customers pay only for the number of channels, memory, and sampling speeds that they really need," says Gillas. "We can also offer volume discounts to qualified OEMs."

GaGe's Octopus family of digitizers is compatible with GageScope® oscilloscope software that allows users to acquire and analyze signals without writing a single line of programming code. GaGe also offers Software Development Kits (SDKs) in C/C#, MATLAB®, or LabVIEW® for users that want to create their own custom applications.

For Further Information contact:
Nicole Faubert
Marketing Manager
GaGe/KineticSystems
DynamicSignals LLC
(514) 633-7007 ext. 3034
nfaubert@gage-applied.com

About GaGe
GaGe (www.gage-applied.com), a brand of DynamicSignals LLC (DynamicSignals.com), is a worldwide industry leader in high-performance signal capture. GaGe, KineticSystems, Preston Scientific and Cyber Systems, all brands of the DynamicSignals growing family, serve a wide-range of industries by providing instruments and modules for PC-based test and measurement systems and synthetic instrumentation built on the PCI, CompactPCI, PXI, VXI, CAMAC and proprietary platforms.

GaGe's product offering includes a family of multi-MHz to GHz digitizers and scope cards, analog signal generator cards, digital input and digital output cards, as well as the programming-free GageScope® oscilloscope software and a vast array of powerful Software Development Kits (SDKs).

GaGe's family of signal capture products consists of the CompuScope line of 8-bit, 12-bit, 14-bit and 16-bit digitizers and scope cards for the PCI and CompactPCI/PXI buses. With sampling rates up to 2 GS/s and very deep on-board acquisition memory of up to 4 Gigabytes, GaGe's product line offers the top performance on the market today in the 3 key dimensions of sampling speed, resolution, and memory.

The company's customer focus translates into products that are used across diverse industries such as Communications, Computers, Military/Aerospace, Fundamental Research, and Education. Applications served are Manufacturing Test, Radar (SIGINT), Ultrasonics, Lasers/LIDAR, Spectroscopy, Automated Test Equipment, etc.

For more information on GaGe or any of its products, contact the company at 900 N. State Street, Lockport, IL 60441. Telephone 1-800-567-GAGE Fax 1-800-780-8411

More from Sensors, Monitors & Transducers