Digital X-Ray System targets private medical practices.
Press Release Summary: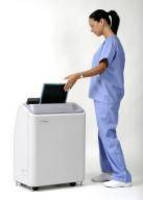 Meeting needs of low-volume private practices, Fuji Computed Radiography (FCR) Prima digital x-ray system features compact CR reader, electronic viewing workstation, and archiving system. Image acquisition-to-archive solution includes FCRView Client Workstation software that combines softcopy viewing system and digital archive system, while also enabling image viewing on up to 4 additional workstations. System measures 23.6 x 15.7 x 30.7 in.
---
Original Press Release:

Fujifilm's New Digital X-Ray System Designed to Eliminate Barriers to Digital Adoption



FCR PRIMA - specifically designed for private practices - now available

STAMFORD, Conn., July 21 / / - Designed to eliminate any existing barriers to the adoption of digital x-ray, the FCR Prima digital x-ray system from FUJIFILM Medical Systems USA, Inc. is now available. Created specifically to meet the x-ray needs of low volume private practices, the Fuji Computed Radiography (FCR) Prima comes complete with a compact CR reader, an electronic viewing workstation, and an archiving system, enabling facilities to quickly and easily transition to a softcopy imaging environment.

"We recognize that the majority of private practice facilities have workflow and budgetary needs that are very different from our hospital-based customers," said Eddie Massetti, Fujifilm's marketing manager for specialty markets. "So Fujifilm designed the FCR Prima to accommodate these needs for lower volume private practices while still delivering the exceptional image quality that we are known for and that physicians and their patients expect. Over the next twelve months we anticipate seeing a rapid increase in the adoption of digital x-ray in practices - specifically where digital was never before an option - as a result of this product introduction," continued Massetti.

The FCR Prima is a complete image acquisition-to-archive solution that provides private practices with the image quality they need in a compact size ideal for their office space, and all delivered at an economical price point that many practices have been waiting for. It is packaged with the FCRView, which combines an innovative softcopy viewing system and comprehensive digital archive system so facilities can initiate and preview exposures, process and print studies, and back up patient data all from one workstation. And with the new FCRView Client Workstation software, image viewing is enabled on up to four additional workstations within the practice. All the functionality comes in a compact size of just 23.6"W x 15.7"D x 30.7"H, making it the smallest footprint of any available competitive system. Easy to fit in any office space, including exams rooms, the FCR Prima is also remarkably lighter than Fujifilm's current system, weighing nearly 30 percent less.

The inventor of digital x-ray, Fujifilm has years of experience in delivering renowned image quality and image processing that are evident in the FCR Prima. The system is customized for each specialty practice to provide convenient access to the specific exams a practice relies on most. And by offering a wider dynamic range than film, the FCR Prima is more forgiving to over- and under- exposure so repeat exams are greatly reduced, saving both staff time and patient time, and eliminating unnecessary re-exposure to radiation.

Lastly, in addition to the diagnostic benefits of digital x-ray, there are also long-term financial and "green" benefits that facilities will immediately benefit from upon implementation. The cost of consumables is eliminated, as soft copy viewing and storage replace the need to buy and dispose of chemicals. There is also no need to purchase and store film, allowing rooms previously devoted to file cabinets and dark rooms to now be converted into more profitable office space such as an extra exam room.

The FCR Prima will begin shipping in August, with orders being accepted immediately. For more information, facilities can contact their local authorized dealer or visit www.fujiprivatepractice.com.

About FUJIFILM Medical Systems USA, Inc.

As one of the FUJIFILM Corporation family of companies with 70 years of imaging experience and more than $28 billion in sales, FUJIFILM Medical Systems USA, Inc. is a leading provider of diagnostic imaging products and network systems to meet the needs of healthcare facilities today and well into the future. Fujifilm's family of Imaging Systems products and technologies - including digital x-ray, women's healthcare imaging, dry imagers, and conventional x-ray film and equipment - are tailored to suit many different applications for a variety of imaging environments. The pioneer in the field, Fujifilm remains the market leader in digital x-ray with products that are clinically proven and constantly evolving to set the standard in digital imaging innovation. FUJIFILM Medical Systems USA is headquartered in Stamford, CT. More information is available at fujimed.com.

2009 FUJIFILM Medical Systems USA, Inc.

Source: FUJIFILM Medical Systems USA, Inc.

CONTACT: Courtney Kraemer, +1-203-363-3924, courtney.kraemer@fujimed.com or Katie Reynolds, +1-203-602-3670, katie.reynolds@fujimed.com

Web Site: http://fujimed.com/

More from Electrical Equipment & Systems