Digital Universal Caliper provides ID and OD measurements.
Press Release Summary: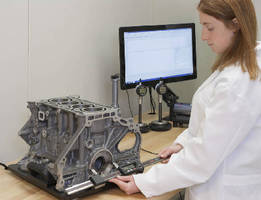 Available in 4 capacities with outside measuring ranges up to 50 in., Multimar 25 EWR is suitable for measuring outside and inside dimensions, narrow collars, external and internal tapers, dovetails, grooves, and distances between hole centers. Both measuring arms can be moved along beam, providing balanced weight distribution. Data output is via USB, Digimatic, Opto RS232C, or wireless. Wide range of measuring arms, anvils, mounting attachments, and depth stops can be configured by user.
---
Original Press Release:

Mahr Federal Introduces the Digital Universal Caliper Multimar 25 EWR, a Configurable Caliper for ID and OD Measurements



-- New measuring range, broad range of accessories, balanced operation with display always in operator's line of vision



PROVIDENCE, RI – With its broad range of measurement accessories, the new Multimar 25 EWR Digital Universal Caliper from Mahr Federal is a versatile and configurable caliper for ID and OD measurement requirements. Available in four capacities with outside measuring ranges up to 1250 mm (50 in.), the 25 EWR is an ideal tool for measuring outside and inside dimensions, narrow collars, external and internal tapers, dovetails, grooves, distances between hole centers, for centering shoulders, scribing work pieces, and more.



Unlike standard calipers, both measuring arms of the 25 EWR can be moved along the beam, thus functioning like a beam-gage, and providing well-balanced weight distribution even with small dimensions. The application range can be easily extended by reversing the interchangeable measuring arms. Plus, the digital display is always in the operator's line of vision due to the patented mounting fixture of the measuring arms and attachments provided.



But what makes the Multimar 25 EWR so versatile is the wide range of measuring arms, anvils, mounting attachments and depth stops, which can be configured by the user. Anvils and tips are available in a wide variety of shapes and configurations, including threads, flat and spherical shoulders, blades and round faces. Depth stops can be set to the exact measuring depth in the horizontal measurement position to provide precise support on the reference plane surface. This improves repetitive accuracy when conducting comparison measurements in the second axis, and when used with a rectangular gage block, can provide accurate depth measurement on cones.



Data output is via USB, Digimatic, Opto RS232C, or wireless, and battery life is about 3 years. The Multimar 25 EWR Universal Caliper provides IP 65 protection for all workshop conditions, and is supplied with battery, instruction manual, hardwood mounting and resting blocks, and a finely crafted wooden case.



Mahr Federal Inc., a member of the Mahr Group, has over 150 years of experience providing dimensional measurement solutions to fit customer application needs. The company manufactures and markets a wide variety of dimensional metrology equipment, from simple and easy-to-use handheld gages to technically advanced measurement systems for form, contour, surface finish and length. Mahr Federal is also well known as a producer of custom-designed gages and a provider of calibration and contract measurement services. Mahr Federal's calibration laboratories are accredited to ISO/IEC 17025:2005 NVLAP Lab Code 200605-0 (see our Scope of Accreditation for accredited calibration processes). For more information visit http://www.mahr.com.



For additional information, contact:

Marketing

Mahr Federal Inc.

1144 Eddy Street

Providence RI 02905 USA

Tel: (800) 343-2050 or (401) 784-3100

Email: mkt.nafta@mahr.com

Web site: http://www.mahr.com

More from Controls & Controllers