Digital Torque Gauge provides testing flexibility.
Press Release Summary: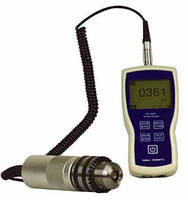 Along with menu programming that facilitates selection and setup, multilingual FG-7000T features numerical or graph mode display operation. Operational modes include Peak, First Peak, Preset, or Track Mode, and external input immediately recognizes torque sensors – 9, 44, and 88 lb-in. capacities – with standard chuck adapter. Measuring frictional resistance between rubber slider mounted on end of pendulum arm and test surface, gauge also features 1,000 point memory with definable groups.
---
Original Press Release:

Introducing FG-7000T Digital Torque Gauge



Provides testing flexibility with external torque sensor input



For Immediate Release: Measure the frictional resistance between a rubber slider mounted on the end of a pendulum arm and the test surface.



Torque sensors with standard chuck adapter are immediately recognized when connected to the display base and are available for your specific testing needs in 1 N-m (9 in-lb) 5 N-m (44 in-lb), 10 N-m (88 in-lb) capacities. The multiple-language FG-7000T's provides menu programming for easy selection and set-up of the instrument to your desired requirements.



Features

• Display operates in numerical or graph modes, both include a directional bar graph

• Graph mode combined with set point tolerances provide instant recognition of process relation to upper and lower limits

• Four Modes of Operation: Peak, First Peak, Preset or Track Mode

• Memory with group categorization to easily separate your tests for review and later download

• Free software for viewing, graphing and analyzing data on PC

• Large, Backlit, Auto-Reversible display with various icons of test status aids user during testing

• Programmable High/Low tolerances combined with comparator NPN/PNP output allow usage in quality control production lines



More Information: The display has two selectable operations, numerical view with directional bar graph or graphical view with directional bar graph. In graphical view when alarm tolerances are set, the process is plotted in relation to the upper and lower limit graph lines.



Combined with the go/no go icons, a simple pass/fail determination is recognized. These high-tech instruments can data log a reading at the push of a button for simple data acquisition or be set to continuous data storage. Data can be viewed on the screen, sent to the optional printer, or loaded to be analyzed and graphed on the free software program. The 1,000 point memory with definable groups allows for  multiple tests to be recorded and easily separated upon loading.



Contact:

Sherri B. Thompson

Advt/Mktg Manager

Paul N. Gardner Company, Inc.

316 NE 1st Street

Pompano Beach, FL 33060

(954) 946-9454 

visit Gardco.com





More from Paints & Coatings