Digital Step Attenuators target broadband and CATV markets.
Press Release Summary: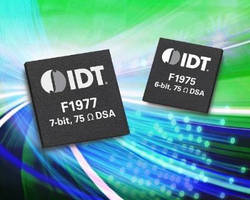 Supplied in 4 x 4 mm 20-TQFN and 5 x 5 mm 32-QFN packages, respectively, 75 Ω Models F1975 and F1977 include Glitch-Free™ technology, which ensures low overshoot and ringing during MSB transitions. Devices feature frequency range of 5–3,000 MHz, max operating power up to 28 dBm, return loss of 18 dB, and max step error of 0.1 dB at 1 GHz. DSAs provide gain control in CMTS, fiber distribution networks, HFC distribution nodes, and data network equipment.
---
Original Press Release:

New IDT Family of RF Devices Targets Broadband and CATV Markets



The F1975 and F1977 75-Ohm Digital Step Attenuators Deliver Ultra-High Linearity and Glitch-Free Performance to Support Increased Data Rates



SAN JOSE, Calif. – Integrated Device Technology, Inc.® (IDT®) (NASDAQ: IDTI) today expanded its RF portfolio with the addition of a new family of digital step attenuators (DSAs) optimized for the demanding requirements of the broadband and CATV markets. The ultra-high-linearity 75-ohm DSAs feature IDT's industry-first Glitch-Free™ technology for enhanced performance.



"DSAs provide gain control in a wide range of applications including CMTS, fiber distribution networks, HFC distribution nodes, and CATV infrastructure and data network equipment," said Chris Stephens, general manager of IDT's RF division. "IDT's new DSAs address the increased data rates required for the data-intensive applications of today and tomorrow, including the latest DOCSIS 3.1 requirements."



The F1975 and F1977 deliver very low insertion loss and distortion, and have much higher power handling with pinpoint attenuation accuracy than competing devices, giving customers the performance needed to achieve higher data rates in their system. The Glitch-Free capabilities help to ensure low overshoot and ringing during MSB transitions, and the 75-ohm impedance offers ease of integration in the target applications.  Additionally, the F1977 is the industry's first monolithic silicon, 75-ohm Glitch-Free, 7-bit DSA, enabling customers to achieve 0.25dB gain control while maintaining industry-leading RF performance.



"The implementation of DOCSIS 3.1 and continued expansion of fiber networks to increase data rates creates an inflection point that requires RF components with much higher performance than before," Stephens said. "IDT's technology and core innovations are ideal for meeting the higher-performance requirements of these new systems."



F1975 and F1977 Parameters


| | | | |
| --- | --- | --- | --- |
| Parameter | F1975 (4x4mm) | F1977 (5x5mm) | Units |
| Frequency range | 5-3000 | 5-3000  | MHz |
|  # Bits / Step Size | 6 / 0.5dB  | 7 / 0.25dB |   |
| Max Operating Power  | up to 28 | up to 28 | dBm |
| P0.1dB (1 GHz) | 31 | 32  | dBm |
| Insertion Loss (1GHz) | 1.2 | 1.4  | dB |
|  Return Loss | 18  | 18 | dB |
| Max Step Error (1 GHz) | 0.1  | 0.1 | dB |
| IIP3 (1 GHz)  | 64 | 64 | dBm |

                        

IDT led the industry with the first DSA products incorporating Glitch-Free technology. Introduced and patented by IDT in 2012, Glitch-Free technology protects amplifiers and analog to digital converters from damage during transitions between attenuation states.



The F1975 and F1977 are fully production released with inventory available at authorized IDT resellers for sampling and production. The F1975, priced at $1.16 each in a lot of 10,000, is offered in a compact 4 x 4 mm 20-TQFN package; the F1977, priced at $1.45 each in a lot of 10,000, comes in a compact 5 x 5 mm 32-QFN package.



About IDT RF Products

IDT offers high-performance and full-featured radio frequency (RF) products that deliver exceptional performance in compact packages. All IDT RF signal path devices are silicon based, offering inherent advantages over GaAs-based products. The portfolio includes RF mixers, fixed and variable gain amplifiers (VGA), digital step attenuators (DSA), demodulators, broadband modulators, RF switches, and wideband voltage variable attenuators. IDT's RF devices are ideal for use in such products as cellular 4G base stations, broadband repeaters, distributed antenna systems and microwave backhaul equipment.



About IDT

Integrated Device Technology, Inc. develops system-level solutions that optimize its customers' applications. IDT's market-leading products in RF, timing, wireless power transfer, serial switching and interfaces are among the company's broad array of complete mixed-signal solutions for the communications, computing, consumer, automotive and industrial segments. Headquartered in San Jose, Calif., IDT has design, manufacturing, sales facilities and distribution partners throughout the world. IDT stock is traded on the NASDAQ Global Select Stock Market® under the symbol "IDTI." Additional information about IDT is accessible at www.IDT.com. Follow IDT on Facebook, LinkedIn, Twitter, YouTube and Google+.



© 2016, IDT. IDT and the IDT logo are trademarks or registered trademarks of Integrated Device Technology, Inc., or its wholly-owned subsidiaries around the world. All other brands, product names and marks are or may be trademarks or registered trademarks used to identify products or services of their respective owners.



IDT Press Contact:

Dean Solov

Public Relations Manager

Phone: (408) 284-2608

E-mail: dean.solov@idt.com



Web Site: http://www.IDT.com

More from Material Handling & Storage