Digital Signal Conditioner provides soil testing.
Press Release Summary: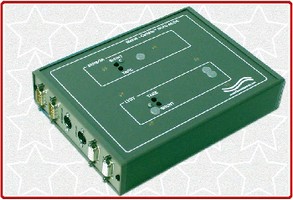 Featuring 2 LVDT channels and 2 strain gage channels, CellMite(TM) Quad provides direct digital data input into serial port of standard PC. CellView software allows test to be divided into 8 segments, each of which can be run at different logging rates. Max and min statistics for each logging segment are summarized, comments are shown, and all data is marked indicating which logging segment it is associated with. Data can be monitored in real-time by up to 8 numeric displays.
---
Original Press Release:

CellMite(TM) Quad Intelligent Digital Signal Conditioner Designed for Soil Testing



The CellMite(TM) Quad AC/DC Intelligent Digital Signal Conditioner, Model 4336, with two LVDT channels and two strain gage channels is designed for soil test applications. CellView Multi-Unit Software runs the CellMite(TM) Quad. The CellMite(TM) Quad provides direct digital data input into the serial port of a standard PC. CellView also allows data logging to a disc.

To facilitate soil testing, the software allows a test to be divided into 8 segments, each of which can be run at different logging rates. The software was designed so that masses could be applied to the soil under test and the masses of soil movement could be monitored. The user can pause the test, change the masses, and resume the test with the same or with different logging rates. All logged data is Excel compatible.

In addition, maximum and minimum statistics for each logging segment are summarized, comments are shown, and all data is marked indicating which logging segment it is associated with. If a specific test requires only one channel of data logging, the maximum logging rate is automatically increased to 60 samples/sec. If only two channels of LVDT are needed, the maximum logging rate is 7.5 samples/sec. If only two channels of strain gage are needed, the maximum logging rate is 7.5 samples/sec. If LVDT and strain gage is recorded simultaneously, the maximum logging rate is 1 sample/sec. The data can be monitored in real time by up to eight numeric displays on the GUI panel. These eight displays can be set to monitor any channel, and they have selectable units conversion, peak and valley data. Also the user can define coefficients for a 5th order polynomial that is based on one of the standard inputs if a user-selectable unit is required.

For more information on CellMite Quad, contact Electro Standards Laboratories at 401-943-1164, email: eslab@electrostandards.com, or visit our Web site: www.ElectroStandards.com.

Jeannette Gouin
Electro Standards Laboratories
36 Western Industrial Drive
Cranston, RI 02921
Tel.: 401-943-1164, Fax: 401-946-5790
Email: jeannett@lab.electrostandards.com, www.ElectroStandards.com

More from Electronic Components & Devices