Digital Signage Display features 3840 x 2160 pixel resolution.
Press Release Summary: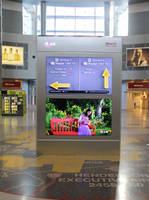 Mounting in portrait or landscape modes for optimal use in commercial applications, 84 in. class 84WS70MS-B Ultra HD LED Display provides immersive wide viewing with vivid picture featuring 8 million pixels. Bezel width of 27.9 mm allows displays to be arranged side-by-side, while In Plane Switching panel technology helps provide color saturation and contrast for off-angle viewing. Through slot at rear of display, users can attach external media player.
---
Original Press Release:

LG Electronics Introduces First 'Ultra HD' Digital Signage Display



First installation of 84-inch class commercial display at Las Vegas' McCarran International Airport



LAS VEGAS, -- LG Electronics USA has introduced the industry's first "Ultra High-Definition" 4K digital signage display, the commercial version of the award-winning LG 84-inch class (84.04 inch diagonal) Ultra HD TV.*



The LG 84-inch class Ultra HD Signage Display is the flagship of LG's 2013 line of LED large-screen monitors that will be demonstrated at this month's Digital Signage Expo 2013 (booth 500). Boasting four times the screen resolution (3840 x 2160 pixels) of traditional HD displays, the massive display is already attracting attention in the first-ever installation of 4K digital signage at Las Vegas' McCarran International Airport. 



The all-new Ultra HD commercial widescreen LED screen (model 84WS70MS-B) provides immersive wide viewing with a high quality and vivid picture featuring Ultra HD technology with 8 million pixels. The Ultra HD 2160p display has a bezel width of just 27.9mm, allowing displays to be arranged side-by-side. The 84-inch class Ultra HD display may be mounted in portrait or landscape mode for optimal use in commercial applications.



"LG continues to innovate in the emerging Ultra HD segment," said Y.K. Cho, B2B senior vice president, LG Electronics USA. "As a company, we strive to offer incredible picture quality on an enormous scale across the board. We are extremely proud to bring our award-winning 84-inch class Ultra HD display technology to the commercial market where customers will benefit from interactive applications presented on a such a huge, visually stunning display."



Visitors to LG's booth at DSE 2013 will have the opportunity to interact with the massive display; however, they may spot the monitors even before arriving in the exhibit hall. The commercial Ultra HD display installation was completed last month at McCarran International Airport.



Two 84-inch class displays with stunning 4K content are featured in a new wayfinder kiosk in McCarran Airport's D Concourse, where nearly 32,000 passengers pass through its 45 gates on a daily basis and either take a tram to Terminal 1 or the new Terminal 3 to collect baggage depending upon which airline they arrived.



To help alleviate directional issues, McCarran airport officials opted to add the Ultra HD displays, encased in an 11-foot tall kiosk, to provide a very clear and unmistakable signage solution in addition to static overhead signs already in place. The monitor at the top of the kiosk runs a wayfinder application designed by Denver-based digital signage solutions provider, Four Winds Interactive.



"The LG Ultra HD display is a welcome addition to our D Concourse rotunda," said Rosemary Vassiliadis, Deputy Director for Clark County Department of Aviation, owner-operator of McCarran International Airport.  "It has been challenging to communicate to customers the many changes that have taken place around the airport since the opening of Terminal 3, but this incredible new Ultra HD display will help capture people's attention and enable us to get our message across more clearly."



Integrated into all LED models, including the 84-inch class Ultra HD screen, is LG's In Plane Switching (IPS) panel technology that helps provide color saturation and contrast for off-angle viewing (both horizontal and vertical), resulting in a display with great picture quality that can be installed at virtually any angle or height. IPS technology also provides a temperature tolerance of up to 230 degrees Fahrenheit (110 degrees Celsius), which helps alleviate a common problem with screens overheating and, as a result, suffering from permanent picture quality damage.  The feature rich large-screen monitor also includes Smart Energy Saving, Temperature Sensor, Auto Brightness Sensor, ISM Method and Key Lock.



A slot at the rear of the display offers the opportunity to attach an external media player (compatible with LG Media Players MP700, MP500 Media Player) for a slimmer look and more convenient maintenance of the display solution.  Additionally, the display offers a user friendly interface through its use of LG's proprietary web-based management platform, SuperSign Elite-w Lite, allowing integrators to pre-load templates to create and run dynamic content, coupled with quick navigation through menus to control networked displays and simultaneously run media files.



About LG Electronics USA

The LG Electronics USA Home Electronics Business-to-Business division serves customers in the U.S. digital signage, systems integration, lodging and hospitality, healthcare, education, government and industrial markets. Based in Lincolnshire, Ill., with its dedicated engineering and customer support team, LG Electronics USA Home Electronics Business-to-Business delivers business-to-business technology solutions tailored to the particular needs of business environments. LG Electronics USA, Inc., based in Englewood Cliffs, N.J., is the North American subsidiary of LG Electronics, Inc., a $49 billion global force in consumer electronics, home appliances and mobile communications. For more information, please visit www.LGSolutions.com.



Designs, features and specifications subject to change without notice.



* "Ultra-high-definition" or "4K" content is not available for consumer devices.  No broadcast standard currently exists for "4K" or "ultra-high-definition" television, and this product may or may not be compatible with such standards if and when developed.



CONTACT: LG Electronics USA, John Taylor, +1-847-941-8181, john.taylor@lge.com , or Cathleen Cronin, +1-908-334-3209, cathleen.cronin@lg-one.com



Web Site: www.LGSolutions.com  

More from Controls & Controllers