Digital Signage Development Kit helps streamline deployment.
Press Release Summary: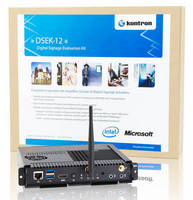 To help streamline digital signage development and evaluation, DSEK-12 uses modular OPS-compliant media player KOPS800 based on third generation Intel Core™ processors. Demo versions of Flypaper and Scala Content Creation and CMS, as well as evaluation copy of MS Windows Embedded POSReady 7, are included to foster application development. Additionally, pre-validated system comes pre-loaded with Intel Audience Impression Metrics and Intel vPro Technology.
---
Original Press Release:

Kontron Announces Next-generation Digital Signage Kit to Help Streamline Development and Deployment of Intelligent Signage Systems



Co-developed with Intel and with technology from Microsoft, the pre-validated, pre-loaded kit eases both evaluation and design implementation to reduce costs



Eching, Germany – Kontron today announced the availability of the next-generation Digital Signage Evaluation Kit-12 (DSEK-12). The Kontron DSEK-12 is designed to help streamline the digital signage development and the evaluation process allowing OEM designers and advertisers alike to reduce the time to deployment and costs. The new kit is co-developed with Intel Corporation and with technology from Microsoft to address the growing demand from companies in markets such as retail, transportation and medical that want to use digital signage as a powerful new vehicle to interact with customers and gain valuable consumer information in real time. Up until now, the basic design resources and tools that allow for cost-effective digital signage development and deployment have lagged behind the latest display and graphics technologies, which have led to expensive and time-consuming integration.



The Kontron DSEK-12 offers a pre-validated system that features technologies from Kontron, Intel and Microsoft. The kit uses the modular OPS-compliant Kontron media player KOPS800 based on 3rd generation Intel Core processors, which will also be available as a standalone media player in early Q4 2012. The Kontron KOPS800 has at its core a Kontron COMe-bIP6, which delivers a proven Computer-on-Module (COM) high performance COM Express solution that provides high-end graphics and display support features. Offering a clear migration path, Computer-on-Modules also give developers the scalability required for future digital signage upgrades, thus providing a future-proof solution that protects customers' technology investments.



The Kontron DSEK-12 includes demo versions of Flypaper and Scala Content Creation and Content Management Software (CMS), and a 180-day evaluation copy of Microsoft Windows Embedded POSReady 7 that enables OEMs to quickly jumpstart application development without having to locate and load software. With Microsoft Windows Embedded POSReady 7, developers have a familiar operating system platform optimized for POS (Point of Sale) systems that allows them to create compelling media and interactive applications while simplifying application control and management.



"Designers can take advantage of using the Kontron DSEK-12 kit now to evaluate their intelligent signage applications in preparation for implementing Kontron's advanced, yet cost-effective next-generation media player KOPS800 that will be released in early Q4 2012," said Kevin Rhoads, vice president of Embedded Products at Kontron. "With the Kontron DSEK-12 and the OPS-compliant Kontron media player KOPS800, customers will have powerful resources to help them quickly develop and deploy content-rich digital signage that delivers increased graphics and computing performance along with upgraded manageability features and improved security."



Additionally, the Kontron DSEK-12 comes with pre-loaded Intel Audience Impression Metrics (Intel AIM Suite). This software solution allows advertising companies to present personalized content to consumers and at the same time gather valuable analytics. It does this by anonymously screening viewer metrics such as gender, age bracket and length of viewer attention so companies can deliver more relevant content for individual viewers and track return on investment with greater accuracy. The kit also incorporates Intel vPro Technology that enables easy platform management.



The Kontron DSEK-12 is available now from Kontron, and can also be purchased through Avnet and Arrow distribution channels.



For more information on the Kontron DSEK-12, please visit: http://www.kontron.com/dsek12



For preliminary information on the Kontron KOPS800, please visit: http://www.kontron.com/products/systems+and+platforms/digital+signage+opscompliant+platforms/kops800.htm



About Kontron

Kontron is a global leader in embedded computing technology. With more than 40% of its employees in research and development, Kontron creates many of the standards that drive the world's embedded computing platforms. Kontron's product longevity, local engineering and support, and value-added services, helps create a sustainable and viable embedded solution for OEMs and system integrators. Kontron works closely with its customers on their embedded application-ready platforms and custom solutions, enabling them to focus on their core competencies. The result is an accelerated time-to-market, reduced total-cost-of-ownership and an improved overall application with leading-edge, highly-reliable embedded technology.



Kontron is listed on the German TecDAX stock exchange under the symbol "KBC". For more information, please visit: http://www.kontron.com/



Media Contacts



Americas

Richard Pugnier

Kontron

Tel:+1 (858) 623-3006

richard.pugnier@us.kontron.com



Annette Keller

Keller Communications

Tel:+1 (949) 640-4811

annettekeller@sbcglobal.net



All rights reserved. Kontron is a trademark or registered trademark of Kontron AG. Intel® and Intel® Core™ are trademarks of Intel® Corporation in the US and other countries. PICMG® and COM Express® are trademarks of the PCI Industrial Computers Manufacturers Group. All other brand or product names are trademarks or registered trademarks or copyrights by their respective owners and are recognized. All data is for information purposes only and not guaranteed for legal purposes. Subject to change without notice. Information in this press release has been carefully checked and is believed to be accurate; however, no responsibility is assumed for inaccuracies.

More from Printing & Duplicating Equipment