Digital Scoreboards Feature Automatic Days Tracking Counter
Press Release Summary: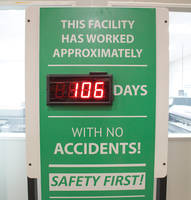 Visual Workplace Digital Scoreboards are used in workplace for displaying work performance in bright lights and colors. These scoreboards come with 5 ft 120V power plug, remote control and mounting brackets. The unit's counter automatically tracks worked days from lost-time accident, injury, or incidents. The board displays 3 in. number.
---
Original Press Release:
Communicate Safety Performance Effectively with Digital Scoreboards Signs by Visual Workplace Support 5S & Lean Safety Goals and Communication
BYRON CENTER, MI – Visual Workplace, Inc., offers Digital Scoreboards to help facilities display safety performance in bright lights and colors that are highly visible and easy to read. Safety scoreboards feature counters that automatically track days worked since a lost-time accident, injury, or other incident.
Features include:
Bright, easy-to-read 3" numbers
Battery backup to retain last number displayed
5-foot 120 V power plug
Remote control with battery
Mounting brackets
Visual Workplace offers a variety of sizes that you can be printed with your custom design, logo and performance metrics.
Media Contacts:
Company: Jennifer Hayes | 616.583.9400 | jennifer@visualworkplaceinc.com
Agency: Julie Eleftheriou | 952.913.3065 | julie@longrenparks.com
ABOUT VISUAL WORKPLACE, INC.
Visual Workplace is a global provider of 5S and Lean products that help users effectively implement and sustain an organized workplace that speaks for itself, that is self-ordering, self-explaining, self-regulating and self-improving. Visual Workplace solutions are used in a wide range of industries such as automotive, consumer products, food and beverage, aerospace, retail, telecommunications, government/defense, pharmaceutical, healthcare and education, among others.
The heart of Visual Workplace's product line is the new Mobile In-House Sign Shop®, which enables users to make professional, custom signs quickly and easily, and at a fraction of the cost of a third party. Request a live demonstration of the Mobile In-House Sign Shop today. For more information or to request a free copy of our guide, visit www.visualworkplaceinc.com, email info@visualworkplaceinc.com, or call 1-616-583-9400.
Related