Digital Refractometer provides 0-65% range.
Press Release Summary: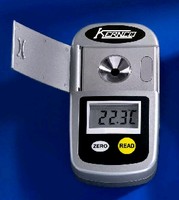 Utilizing microprocessor technology, portable Model 300051 operates at sample temperatures up to 40°C and provides 8,000 readings on single AAA alkaline battery. Device includes automatic temperature compensation from 41-104°F and automatic shutoff after 3 min if not in use. Water-resistant design protects electronics from wet environments and facilitates clean up. With measurement time of 1 sec, instrument delivers ±0.2% accuracy and 0.1% resolution.
---
Original Press Release:

New Pocket Digital Refractometer - Wide Range of 0-65% With Five (5) Year Warranty



Kernco Instruments is pleased to introduce Model 300051 portable digital refractometer with a wide range of 0-65%. This model is used in many different applications, whereas models from other firms would offer ranges of 0-35, 0-45 or other ranges to coverall their customers needs. This unit is low cost, yet with great features and accuracy normally found in digital refractometers selling at prices considerably higher. Model comes with a five (5) year warranty.

Typical applications: fruit orchards, produce markets, beverage plants, food manufacturing, checking % concentration of lubricants, cutting oils, coolants and organic solvents.

Features:
o Microprocessor technology
o Automatic Temperature Compensation (41 - 104°F)
o Use on sample temperatures up to 40°C
o Stainless steel plate for optical prism well
o 8,000 readings on a single "AAA" alkaline battery
o Easy to use, place sample on prism well plate, press "READ" button and within 1 second the value is displayed
o Automatic shutoff after 3 minutes if not in use (prolongs battery life)
o Water resistant design protects the electronics from wet environments and makes for easy clean ups.
o Unit is supplied with instrument, carrying case, battery, pipette and instruction manual


Specifications:

Reading Range:  	0-65%

Scale:			brix and other concentration percentages

Resolution:		0.1%

Accuracy:		±0.2%

Calibration:		Distilled water at 20°C (68°F)

Measurement Time:	1 second

Sample Volume:		1 mL or more

Size/Weight:		4 5/8" x 2 3/8" x 2 3/8" / 4.6 oz.


For additional information, write to:
Kernco Instruments Co., Inc.
420 South Kenazo Avenue
El Paso TX 79928-7339
Phone: 815-852-3375
Fax: 915-852-4084
Email: contact@kerncoinstr.com
Internet: www.kerncoinstr.com
Contact: John Kelly, Sales Direct

Related