Vision and Imaging Sensors / Detectors
Digital Pyroelectric Detectors have 2-element architecture.
Press Release Summary: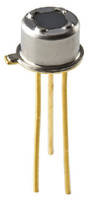 Enhancing safety and security applications through motion and presence detection, Smart DigiPyro® PYD 1096 and Miniature DigiPyro PYD 5731 offer fully integrated event logic timing, adjustable sensitivity settings, and ambient light sensing. Design offers optimized EMI immunity and signal processing functionalities that streamline integration required for OEMs. While DigiPyro PYD 1096 comes in 6-pin TO-5 housing, Miniature DigiPyro PYD 5731 comes in 3-pin TO-46 housing.
---
Original Press Release:

PerkinElmer Introduces New Additions to DigiPyro® Family of Digital Pyroelectric Detectors at Sensor + Test 2009



PerkinElmer Introduces New Additions to DigiPyro® Family of Digital Pyroelectric Detectors at Sensor + Test 2009

PerkinElmer's Smaller and Smarter Infrared Sensing Technologies Are Safeguarding Homes through Motion and Presence Detection

Nurnberg, Germany - May 27, 2009 - Sensor + Test 2009 - Hall 12, Stand No. 12-638 - Today at Sensor + Test 2009, PerkinElmer, Inc., a global leader focused on improving the health and safety of people and the environment, announced the introduction of the newest members of the DigiPyro® Family of pyroelectric detectors, designed for safety and security applications. The two new dual-element models include the Smart DigiPyro PYD 1096 and the Miniature DigiPyro PYD 5731.

Like all members of the DigiPyro family, the Smart DigiPyro PYD 1096 dual element pyrodetector provides OEMs with clear advantages over traditional analog-based motion detection, including significantly improved EMI immunity and reduced cost and space requirements when compared to analog circuitry. In addition, the Smart DigiPyro delivers several unique advantages including fully integrated event logic timing, adjustable sensitivity settings, and ambient light sensing. The Smart DigiPyro offers signal processing functionalities to streamline the integration required for OEMs. It is offered in a standard 6-pin TO-5 housing.

The new "mini" DigiPyro PYD 5731 is a miniaturized version of the digital pyrodetector PYD 1988. It is a dual-element configuration with a 3-pin TO-46 housing for smaller size. The new "mini" is designed for motion sensing applications which are space-constrained and/or lens-size constrained.

"PerkinElmer is pleased to introduce at Sensor + Test 2009 our newest DigiPyro models, reflecting our ongoing commitment to providing OEMs with a robust pipeline of infrared sensing technology innovations," said Michael Ersoni, vice president and general manager of PerkinElmer global detection business. "Based on our customers' needs, we are focusing on smaller and smarter digital motion detection solutions for a host of home and industrial safety and security applications."

PerkinElmer's sensors are not only critical for motion and presence detection, but they are also excellent for energy conservation. A recent ERA Technology Ltd. study estimated that PerkinElmer's sensors contribute to annual savings of more than 20 million metric tons of carbon dioxide emissions. This is equivalent to the emissions from two medium-size power stations in the EU or the amount of carbon dioxide emitted if every U.S. car were to drive 700 miles.

PerkinElmer will exhibit its newest smaller and smarter additions to the DigiPyro Family at Hall 12, Stand No. 12-638 at Sensor + Test 2009 which takes place May 26 - 28 in Nurnberg, Germany.

PerkinElmer is a leading innovator in infrared sensing and photon detection technologies for a range of OEM applications that contribute to a healthier, cleaner and safer tomorrow.

For more information on PerkinElmer's Detection Solutions, please visit http://optoelectronics.perkinelmer.com/sensors

About PerkinElmer, Inc.
PerkinElmer, Inc. is a global leader focused on improving the health and safety of people and the environment. The Company reported revenue of approximately $2 billion in 2008, has around 8,500 employees serving customers in more than 150 countries, and is a component of the S&P 500 Index. Additional information is available through www.perkinelmer.com or 1-877-PKI-NYSE.

PerkinElmer Contact:
Francine S. Bernitz
Global Marketing Director, Illumination and Detection Solutions
978.224.4321 (office) 781.789.3178 (cell) Francine.bernitz@perkinelmer.com

Related