Digital Programmable Capacitor supports wireless trimming.
Press Release Summary: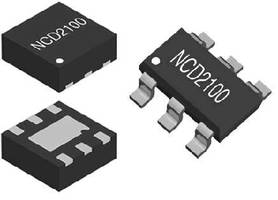 Available in 2 x 2 mm DFN and 2.8 x 2.9 mm TSOT packages, Model NCD2100 features tuning ratio of 5.7:1 and capacitance range of 6.6–37.55 in 63 fF steps for shunt configuration. Digitally controlled capacitance trimming information is communicated via 2-wire serial bus, with calibration value stored in internal, non-volatile memory. Operating from 2.5–5.5 V, capacitor is suited for VCXOs, crystal oscillators, tunable RF Stages, RFID tags, industrial wireless control, and filter banks.
---
Original Press Release:
IXYS Introduces New Non-Volatile Digital Programmable Capacitor
The NCD2100 is suitable for tunable RF stages and Industrial Wireless trimming

Beverly, Massachusetts, USA –  IXYS Integrated Circuits Division (ICD), Inc., an IXYS Company, (NASDAQ: IXYS), announced the availability of the NCD2100, non-volatile digital programmable capacitor. The NCD2100 is a dedicated electronic calibrator for capacitance critical circuits, a typical example of which is capacitive offset trimming of a crystal oscillator. Digitally controlled capacitance trimming information is communicated via a two-wire serial bus, with the calibration value stored in the internal, non-volatile memory.

The NCD2100 has a tuning ratio of 5.7:1, and a capacitance range of 6.6 – 37.55 pF in very small 63 fF steps for shunt configuration. The device will retain the programmed capacitance value stored in its internal non-volatile memory, which becomes the ideal solution for trimming purposes. Restoring this memory to its initial factory default code is also possible, so that future corrections are possible to manage system variations as aging or re-tuning processes. Other features include: very small size, minimum current draw, wide operating voltage range from 2.5V to 5.5V, and MSL 1 rating.

The NCD2100 is available in the 2mm x 2mm DFN package and also in the 2.8mm x 2.9mm TSOT package.
 
Typical applications include post-trim voltage-controlled oscillators (VCXOs), crystal oscillators, tunable RF Stages, RFID tags, industrial wireless control, filter banks and capacitive sensor trimming.

Pricing and Availability
The NCD2100M and NCD2100T are available in production quantities. OEM pricing is $0.84 and $0.82 respectively, in quantities of 25KU.

About IXYS ICD and IXYS Corporation
IXYS Integrated Circuits Division, (ICD), a leader in the design and manufacture of solid state relays and high voltage integrated circuits, is a wholly owned subsidiary of IXYS Corporation. IXYS Corporation develops and markets primarily high performance power semiconductor devices that are used in controlling and converting electrical power efficiently in power systems for the telecommunication and internet infrastructure, motor drives, medical systems and transportation. IXYS also serves its markets with a combination of digital and analog integrated circuits, power systems and RF GaAs and GaN based products. Additional information about IXYS Integrated Circuits Division, Zilog and IXYS may be found at www.ixysic.com,  www.zilog.com  and www.ixys.com.   

Catherine Austin
Product Marketing Manager
IXYS Integrated Circuits Division (formerly Clare)
 
More from Thermal & Heating Equipment