Digital Potentiometer operates from 2.7-5.5 V single supply.
Press Release Summary: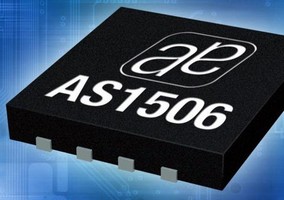 Available with 10, 50, and 100 kW resistance, Model AS1506 is 8-bit, 256-tap, and SPI-interfaced nonvolatile digital potentiometer that uses maximum power of 500 nA during standby and 200 A (max) during operation including CMOS write current. It offers resistance temperature coefficient of 90 ppm/°C, integral nonlinearity (INL) of ±0.5LSB (max), and differential nonlinearity (DNL) of ±0.5LSB (max). Unit comes in small 8-pin TDFN 3 x 3 mm packaging.
---
Original Press Release:

austriamicrosystems Unveils 8-Bit Digital Potentiometer with High Performance EEPROM and World-Leading Data Retention and Write Cycles



AS1506 offers excellent DC performance plus world-beating 150 year data retention and 10M write cycles with unique Hi-EPR EEPROM

Unterpremstaetten, Austria (August 16, 2007) - austriamicrosystems (SWX: AMS), a leading global designer and manufacturer of analog ICs for communications, industrial, medical and automotive applications, today expanded its digital potentiometer portfolio with the AS1506, an 256- tap SPI-interfaced nonvolatile digital potentiometer
available with 10, 50 and 100kOhms resistance.

The AS1506 is ideal for the usage in low power environments, using a maximum of 500nA during standby and extraordinary low 200A (max) during operation including the CMOS write current. Operating from a single supply from 2.7 to 5.5V the AS1506 offers an end-to end resistance temperature coefficient of 90ppm/°C. The AS1506 delivers an excellent integral nonlinearity (INL) of ±0.5LSB (max) as well as outstanding differential nonlinearity (DNL) of ±0.5LSB (max).

The AS1506 digital potentiometer stores the wiper information in the integrated Hi-EPR (High Endurance, Performance & Retention) EEPROM with world leading numbers of write cycles and data retention time. austriamicrosystems Hi-EPR EEPROM allows 10 million write cycles at 25°C and astonishing 1 million write cycles at 85°C which is 50 times more then conventional high grade EEPROM. Additionally, the AS1506 delivers unbelievable 150 years of data retention at 85°C storing the EEPROM information 15 times longer than standard high grade EEPROM.

"The AS1506 offers several advantages over analog potentiometers and competition's nonvolatile digital potentiometers," said Walter Moshammer, marketing director Standard Linear at austriamicrosystems. "Besides the obvious advantages of a digital potentiometer such as being vibration and shock proof, providing better resolution,
small form factor, as well as increased overall performance, the AS1506 offers an outstanding EEPROM which is able to hold the stored information for decades, even in the harshest environments, and endure millions of write cycles."

The AS1506 is available in a small 8-pin TDFN 3x3mm packaging. For product specific information, to download data sheets or to request free samples from austriamicrosystems' online shop ICdirect, please visit http://austriamicrosystems.com/03products/products_detail/AS1506/AS1506.htm

About austriamicrosystems

austriamicrosystems is a leading designer and manufacturer of high performance analog ICs, combining more than 25 years of analog design capabilities and system know-how with its own state-of-the-art manufacturing and test facilities. austriamicrosystems leverages its expertise in low power and high accuracy to provide industry-leading
customized and standard analog products. Operating worldwide with more than 1,000 employees, austriamicrosystems focuses on the areas of power management, sensors & sensor interfaces, portable audio and car access in its markets Communications, Industry & Medical and Automotive, complemented by its Full Service Foundry activities. austriamicrosystems is listed on the SWX Swiss Exchange in Zurich (ticker symbol: AMS).

For more information, please visit the web site at www.austriamicrosystems.com.

Electronic picture and block diagram are available on request or at
http://austriamicrosystems.com/07presscenter/presscenter_start.htm

For further information
Press Contact
austriamicrosystems AG
Moritz Gmeiner
Media Relations
Tel: +43 (0) 3136 500 5970
Fax: +43 (0) 3136 500 5420
press@austriamicrosystems.com
www.austriamicrosystems.com

Technical Contact
austriamicrosystems AG
Manfred Kogler
Marketing Manager Standard Linear
Tel: +43 (0) 3136 500 5274
Fax: +43 (0) 3136 500 5420
manfred.kogler@austriamicrosystems.com
www.austriamicrosystems.com

More from Architectural & Civil Engineering Products