Digital POL Regulator features dynamic loop compensation.
Press Release Summary: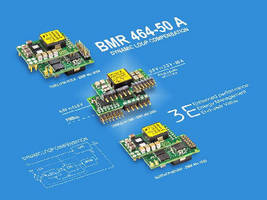 Providing output current up to 50 A, Model BMR464-50A offers power density of 534 W/in.³ and features full set of PMBus commands for monitoring and control. Device delivers up to 97.2% efficiency at 3.3 V output with 5 V input. Operating from input voltage of 4.5–14.0 V, BMR464-50A provides adjustable output voltage from 0.6–3.3 V. When higher power or star-point current distribution is required, BMR464-50A can be paralleled with up to 7 devices delivering total current of 350 A.
---
Original Press Release:

Ericsson Embeds Dynamic Loop Compensation and Increases Current Output to 50A in New Digital Point-of-load Regulator



• New 50A regulator offers high power density of 32.61W/cm3 (534W/in3) and 25 percent more output current compared to previous version and in the same footprint

• Dynamic Loop Compensation improves stability and shortens time-to-market

• Paralleling of seven modules with phase-spreading delivers 350A, while ripple-and-noise is reduced to the lowest possible level



The new Ericsson 3E series BMR464-50A is a third-generation digital point-of-load (POL) regulator that features Dynamic Loop Compensation (DLC) and also extends output current up by 25% to 50A from the 40A offered by the BMR464-40A, yet it comes in a fully compatible footprint. The product also features a full set of PMBus commands enabling systems architects to fully monitor and dynamically control the energy delivered to strategic components, such as processors, FPGAs and ASICs, down to a very low and highly economical level.



Embedding the latest Dynamic Loop Compensation technology, the BMR464-50A runs the DLC algorithm as default following the enabling of the output. However, three more settings are also available via the PMBus for systems architects to choose the most appropriate method for the application with the DLC algorithm run every second or every minute or simply disabled. In addition to standard methods, designers can also use the Loop Compensation Tool featured in the latest Ericsson Power Designer software to set their own loop compensation profile to match the requirements of specific applications.



Patrick Le Fèvre, Marketing and Communication Director, Ericsson Power Modules, says: "This new module is an extension to the third generation of Ericsson 3E POL regulators, which have rapidly became the reference digital point-of-load modules in the market. Working closely with customers in its development, the BMR464-50A meets the demands of volume markets by offering a higher current output and, very importantly, embedding Dynamic Loop Compensation. While this new module enables additional flexibility and simplicity, it also means that system architects retain the ability to control parameters to match specific applications."



Developed as a high-efficiency solution, the BMR464-50A powertrain is composed of the latest MOSFET technology to deliver up to 97.2 percent efficiency at a 3.3V output with a 5V input. In addition, with an input voltage range of 4.5V to 14.0V, the BMR464-50A complies with most intermediate bus voltages (5V to 12V) that are commonly used in the industry and provides an adjustable output voltage from 0.6V to 3.3V with the factory default set at 1.2V. Output voltage can be adjusted to any value through simple PMBus commands or via a 1% tolerance pin-strap resistor offering 28 different levels of output voltages.



When higher power or a 'star-point current distribution' is required, the BMR464-50A can also be paralleled with up to seven devices delivering a total current of 350A. When in parallel, the modules can be synchronized with the use of phase-spreading reducing noise and peak current. Phase-spreading can be simply simulated and programmed via the tools embedded in the Ericsson Power Designer software tool.



Designed for narrow-board-pitch applications (15mm), surface-mount and through-hole versions are packaged with fully compatible dimensions and footprint of 30.85 x 20.8 x 8.2mm (1.215 x 0.787 x 0.323in) to the BMR464-40A. The 8.2mm height of the product makes it suitable for low-profile board applications that require all components to be below 10mm making room for heat transfer materials in the case of cold-wall cooling.



Available in three versions, through-hole (BMR4640008), surface-mount (BMR4641008) and single-in-line (BMR4642008), the POL module addresses a large range of applications in the Information and Communication Technology (ICT) sector, but also suits the industrial segment, which is rapidly migrating from traditional analog point-of-load to digital control technologies. Offering more power in the same packaging as the BMR464-40A, the new module perfectly matches applications where headroom is required for power derating.



The BMR464-50A also features current sharing, voltage tracking and margining, non-linear response for reducing of decoupling capacitors, input under-voltage shutdown, over-temperature protection, output short-circuit and over-voltage protection, remote control and power-good, and a full PMBus set of commands for monitoring and control. The MTBF for the BMR464 series is 14.2 million hours.



The BMR464-50A is available at $20.70.in OEM volumes.



* Enhanced Performance, Energy Management, and End-user Value are the key benefits delivered by Ericsson's range of 3E digitally controlled DC/DC converters.



FOR FURTHER INFORMATION, PLEASE CONTACT



Patrick Le Fèvre

Marketing and Communication Director

Ericsson Power Modules

Phone: +46-10-716 95 07



Europe, Middle East & Africa: +46-10-716 96 20

Asia Pacific: + 86-21-5990 3258

Japan: +81 80 3363 3987

Americas: +1-972-583 6910 or +1-972-583 5254



About Ericsson Power Modules www.ericsson.com/powermodules

More from Non-Industrial Products