DC to DC Power Supplies (Converters)
Digital POL Modules have self-compensating, bus-free design.
Press Release Summary: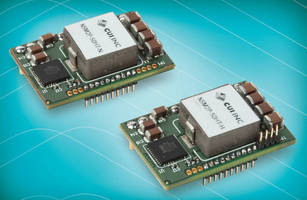 Available with 4.5–14 Vdc input and selectable output range of 0.6–3.3 Vdc, NSM2P series gives users access to same features as fully digital POL but with access via header pins that connect to USB dongle and CUI's Digital Power GUI. Designer can dynamically test and manipulate desired functions within their system, monitor results, and set desired fault management functions. At half load, efficiencies are rated above 93%, and other features include precision ramp control and margining.
---
Original Press Release:

CUI Introduces the Industry's First No-Bus Self Compensating Digital Point-of-Load Modules



TUALATIN, Ore. – CUI Inc releases the industry's first self-compensating No-Bus digital point of load dc-dc module family.  The modules are specifically designed for customers who value the efficiency and compensation advantages inherent in digital power but do not want to incorporate digital bus communication in their systems.  The NSM2P series will allow customers to access many of the same features as a fully digital POL, however the access will be via header pins that will connect to a USB dongle and CUI's Digital Power GUI. The designer can dynamically test and manipulate the desired functions within their system, monitor the results, and set the desired fault management functions.  In production, the engineering header is pulled and the specified parameters are loaded into the module by CUI based on the customer's specific requirement.



The NSM2P has the same features and functions of the recently announced NDM2P series without the need for a serial bus connection on the board, also offering true cycle-by-cycle self compensation, autonomously balancing the trade-offs between dynamic performance and system stability.  With this feature, designers are able to bypass the traditional practice of building-in margins to account for factors such as component ageing, manufacturing variations, and temperature, which inevitably lead to higher component cost and longer design cycles.  The NSM2P's take full advantage of Powervation's cycle by cycle self compensation feature, the module is able to dynamically set optimum stability in real time as conditions change.



Offering efficiencies above 93% at half load, the NSM2P series is available with an input range of 4.5~14 Vdc and a selectable output range of 0.6~3.3 Vdc in three compact DIP configurations; a 12 A version measuring 0.825 (L) X 0.500 (W) X 0.286 (H) in., a 25 A version measuring 1.01 x 0.54 x 0.32 in., and a 50 A version measuring 1.215 x 0.79 x 0.36 in. SMT and SIP versions will be available as well. Additional features include 1% Vout accuracy, precision ramp control, margining, and a multi-config pin that allows up to 8 configuration files to be stored in a single part number as well as a nested footprint between the three modules to support dual layout needs.  The NSM2P modules are optimized for the complex needs in the low core voltages requirements of today's most advanced chips.



"We pride ourselves in making digital power as simple and accessible as possible for engineers," said Mark Adams, CUI's Senior Vice President. "The NSM2P series will allow our customers to enjoy the flexibility and performance of digital power in a package that is even easier to design in as an analog point of load module," Adams concluded.



The NSM2P series the latest addition to CUI's Novum® Advanced Power product line, which focuses solely on the design and development of leading edge power platforms.  NSM2P engineering samples are available immediately for select customers.



electronica 2012

Learn more about CUI's power electronics line at this year's electronica show in Munich, running from November 13th to the 16th. CUI will be located in the power hall B2 at booth 518, and will showcase their lineup of power supplies ranging from 1 W to 2400 W, including advanced intermediate bus and digital point of load modules, medical ac-dc power supplies, and rugged industrial dc-dc converters.



About CUI Inc

CUI Inc is a technology company dedicated to the development, commercialization, and distribution of new, innovative electro-mechanical products. Our broad power, motion control, and component product portfolios allow our customers to address their design challenges across a range of industries and applications. Built on a solid foundation of core operating principals, CUI seeks to maximize value for our customers through our engineering, manufacturing, and supply chain capabilities. As an industry leader, we will continue to invest in the future through new technologies, talented employees, expanded manufacturing capabilities, and a growing global reach. For more information, please visit www.cui.com.



CUI Inc is a subsidiary of CUI Global, Inc., a publically traded company under the ticker symbol NASDAQ: CUI.

More from Material Handling & Storage