DC to DC Power Supplies (Converters)
Digital POL Module addresses challenge of powering advanced ICs.
Press Release Summary: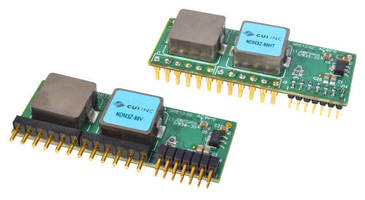 Outputting 90 A in 50.80 x 9.47 x 19.10 mm vertical and 50.8 x 19.1 x 9.7 mm horizontal through-hole configurations, non-isolated NDM3Z-90 incorporates dynamically programmable digital features. Modules are available with 7.5–14 Vdc input range and 0.6–1.8 Vdc programmable output range. While peaking at 91.4% at 12 Vdc in to 1.0 Vdc out at 50% load, efficiency remains at 88.7% up to full load. Digital power controller with ChargeMode™ Control technology eliminates need for compensation.
---
Original Press Release:

CUI Introduces 90 A Digital Point-of-Load (POL) Module Series to Address Growing Challenge of Powering Advanced ICs



Highest Current POL on the Market Meets Rising Power Demands in Networking Applications



TUALATIN, Ore. – CUI Inc today announced the release of its highest current digital POL family to date from the Applied Power Electronics Conference (APEC) in Charlotte, North Carolina. Designed specifically to address the rapidly-rising power requirements of today's most advanced integrated circuits, the NDM3Z-90 is a non-isolated module outputting 90 A in ultra low-profile vertical and horizontal packages. The series delivers benchmark power levels while incorporating a range of advanced digital features, including programmable output range, active current sharing, voltage sequencing, voltage tracking, synchronization and phase spreading, programmable soft start and stop, as well as a host of monitoring capabilities.

 

The NDM3Z-90 utilizes Intersil's newest digital power controller, the ZL8801. Thanks to the ZL8801's ChargeMode™ Control technology, no compensation is required, allowing the modules to autonomously balance the trade-offs between dynamic performance and system stability on a continuous basis. With this feature, designers are able to bypass the traditional practice of building-in margins to account for factors such as component ageing, manufacturing variations, and temperature, which inevitably lead to higher component cost and longer design cycles. The NDM3Z's zero compensation feature allows the module to dynamically set optimum stability in real time as conditions change.



The 90 A series delivers class-leading efficiency and transient response. Efficiency peaks at 91.4% at 12 Vdc in to 1.0 Vdc out, 50% load. Efficiency remains high up to full load at 88.7%. To address the growing sensitivity to transient load steps in today's ICs, performance has been maximized with the help of the ZL8801's Chargemode™ technology which allows the module to responds to a transient load step in a single switching cycle. At 12 Vdc in to 1 Vdc out with a 45A load step (from 22.5 A to 67.5 A) and a 2 A/µs slew rate, peak voltage is a mere 28 mV with moderate external capacitance required.



In addition to the superior performance metrics, the module is capable of paralleling 4 modules in an active current sharing manner to output up to 360 A.



The NDM3Z-90 is designed to meet the 'teraAMP™' standard for high current digital POL modules recently announced by the Architects of Modern Power™ (AMP Group) industry power consortium.  The AMP Group™ aims to provide true multi-sourced but technically advanced and highly efficient power supplies for distributed power architectures, extending standardization to embrace electrical specifications and performance, including the monitoring, control and communications functions made possible by the adoption of digital controllers. This allows the AMP Group to define common configuration files to enable plug-and-play interoperability between products from its member firms, which currently comprise CUI, Ericsson Power Modules and Murata.



The NDM3Z-90 series is available with an input range of 7.5~14 Vdc and a programmable output range of 0.6~1.8 Vdc. All digital features will be dynamically programmable via PMBus commands or through CUI's simple, easy to use Novum ACE™ GUI. The 90 A family is available in two compact through-hole configurations, a vertical version measuring 50.80 (L) X 9.47 (W) X 19.10 (H) mm and a horizontal version measuring 50.8 x 19.1 x 9.7 mm. For added flexibility during the development process, the modules are footprint nested to accommodate dual layout needs in the event that design requirements change.



"We are pleased to announce the release of our most powerful digital POL module yet," said Mark Adams, CUI's VP of Advanced Power. "Power density, transient response, and efficiency are all of chief concern to our customers as they are tasked with designing the power system for today's cutting-edge ICs. Our mission is to help engineers stay one step ahead with our Novum Advanced Power line," Adams concluded.



Engineering samples are available immediately.



CUI at APEC 2015

Learn more about the NDM3Z-90 and the rest of CUI's Novum Advanced Power line at this year's Applied Power Electronics Conference (APEC) show in Charlotte, North Carolina, running from March 15th to the 19th. CUI will be located at booth 206, and will demonstrate their lineup of advanced power solutions, including high efficiency ac & dc power supplies, advanced bus dc-dc converters, and digital point of load dc-dc modules.



About CUI Inc

CUI Inc is a technology company focused on the development and distribution of electronic components. At the leading edge of power supply design, the organization supports customers as they strive to improve the energy efficiency and environmental credentials of their application.  The company's power group is complemented by a portfolio of world-class board level components, consisting of interconnect, sound, motion control and thermal products.  An unwavering commitment to create collaborative partnerships with customers and a drive to see that their design project is a success has been a hallmark of CUI's sustained growth since its founding in 1989.   As a leader in the industry, CUI will continue to invest in the future through new technologies, talented employees, expanded manufacturing capabilities, and a growing global reach.



CUI Inc is a subsidiary of CUI Global, Inc., a publicly traded company whose common stock trades on the NASDAQ Exchange under the symbol CUI.



About Architects of Modern Power

The AMP Group is a consortium of leading power companies collaborating to create a defacto industry standard for distributed power architecture designs by jointly defining and developing a roadmap of advanced power solutions. It comprises CUI Inc, Ericsson Power Modules and Murata. The consortium aims to define the future of power by providing a complete ecosystem for distributed power designs, offering the best technological solution as well as reducing supply chain risk.



Media contacts

CUI Inc

Maggie Lefor

+1 503 612 2300

mlefor@cui.com

www.cui.com



Publitek

Derek Rye

+44 (0)1225 470 000

derek.rye@publitek.com

www.publitek.com



Chargemode™ is a trademark of Intersil in the U.S. and/or other countries. Solus® is a trademark of CUI Global, Inc. in the U.S. and/or other countries.

More from Transportation Industry Products