Digital Pathology System enables real-time review for research.
Press Release Summary: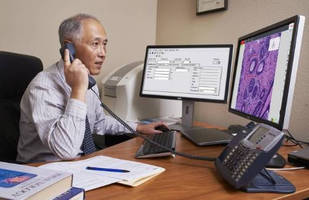 Intended for telepathology, Aperio LV1 enables remote users to access live glass slides in <15 sec. Remote access supports secure access and full control, including magnification changes, X/Y/Z plane movement, and switching between slides. Along with 4-slide capacity and complete robotic control, system offers UI that lets users view up to 16 simultaneous fields of view, at different magnifications. Additional functionality enables system to be used as low-volume whole slide scanner.
---
Original Press Release:

Leica Biosystems Introduces the Aperio LV1 - Live View, Remote, Digital Pathology System for Research Use Only



VISTA, CA - Leica Biosystems announces the new Aperio LV1 digital pathology system for telepathology, providing rapid remote access for real-time review of glass slides for research use only applications.



With 4-slide capacity and complete robotic control, the Aperio LV1 enables remote users to access live slides in less than 15 seconds and navigate like a conventional microscope.  Users can securely access the system and take full control to change magnification, move in x, y or z planes or switch between slides.  The almost instantaneous sharing of slides facilitates access to remote pathologists, participating in projects, for collaborative discussions and expert input, eliminating the time delays and cost associated with shipping slides.  In addition, the easy-to-use interface means users can view up to 16 simultaneous fields of view, at different magnifications, for side-by-side comparison of specimens.



"Remote sharing of glass slides for expert subspecialist input is a growing need in multi-research pathology studies," said Puneet Sarin, Leica Biosystems vice president and general manager, Pathology Imaging. "The Aperio LV1 is an affordable solution, providing research users with the ability to have slide review and discussions in real-time." 



With a compact design and small footprint, the Aperio LV1 fits easily into limited laboratory space. Minimal IT requirements enable the Aperio LV1 to be installed by the user in minutes.  Further functionality enables the system to be used as a low-volume whole slide scanner and is fully compatible with Aperio eSlide Manager and Aperio ImageScope, the world's most widely used digital pathology viewer. 



To see the new Aperio LV1 research solution, join us at CAP'15 in Nashville, TN from October 4-7 at booth #320 or at Pathology Visions in Boston, MA from October 11-13 at booth #211. Further information can be found at LeicaBiosystems.com/AperioLV1.



About Aperio LV1

The Aperio LV1 is For Research Use Only. It is not for use in Diagnostic Procedures.



About Leica Biosystems

Leica Biosystems is a global leader in workflow solutions and automation, striving to advance cancer research and diagnostics to improve patients' lives. Leica Biosystems provides anatomic pathology laboratories and researchers a comprehensive product range for each step in the pathology process, from sample preparation and staining to imaging and reporting. The company is represented in over 100 countries. It has manufacturing facilities in 7 countries, sales and service organizations in 19 countries, and an international network of dealers. The company is headquartered in Nussloch, Germany. Further information can be found at LeicaBiosystems.com.



CONTACT:

Media Contact:

Kristin O'Neill, Manager

Global Brand Marketing

GlobalMarketing@leicabiosystems.com

+1-847-821-3537