Digital Panel Meters feature blue LED display.
Press Release Summary: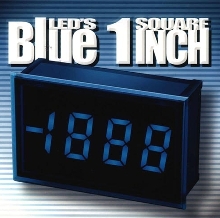 DMS-20PC-BS Series subminiature 3½ digit DPMs are offered with 470 nm, InGaN blue LED technology. Units are housed in blue, epoxy-encapsulated, 12-pin, DIP-style plastic package that, when mounted in panels, has 1.38 x 0.88 in. footprint. Built-in high-contrast blue filter enables DPMs to be used in stand-alone, PC board-mount applications. Input ranges include ±199.9mV, ±1.999V, ±19.99V, and ±199.9 Vdc. Meters consume less than 1/2 W from single +5 V supply.
---
Original Press Release:

World's Smallest Blue LED-Display Digital Panel Meters


Subminiature, 3½ Digit, Brilliant-Blue LED DPM's Occupy One Square Inch

- Dazzling, Super-Bright, InGaN Blue LED's!
- Ultra-Small Size: 1.38W" x 0.88H" x 0.48D" (35mm x 22 mm x 12mm)
- Large, 0.37" (9.2mm) High, Easy-to-Read, 3½ Digit Display
- Perfect for Marine, Medical, and Industrial Instrumentation
- Epoxy-Encapsulated, 12-Pin DIP Package With Built-in Blue Filter
- Low Power Consumption: Less Than ½ Watt From a Single +5V Supply
- Choice of Four Input Ranges: ±199.9mV, ±1.999V, ±19.99V, and ±199.9Vdc
- Low Cost: $50 Each in Singles

Another DATEL First
DATEL's top-selling DMS-20PC Series of subminiature 3½ digit DPM's are now offered with brilliant blue LED displays. The unique, eye-catching qualities of the color blue are finally available to the medical, marine, and industrial instrumentation markets. Thanks to state-of-the-art, 470nm, InGaN (indium gallium nitride) blue-LED technology, designers now have an affordable and reliable alternative to expensive, vacuum-florescent displays. Applications requiring two or more display colors can now take advantage of the most sought after LED color...radiant, true blue!

Rugged DIP Package Occupies One Square Inch
All DMS-20PC-BS digital panel meters are housed in a blue, epoxy-encapsulated, 12-pin, DIP-style plastic package that, when mounted in panels, has a 1.38W" x 0.88H" (35mm x 22mm) footprint. Nevertheless, display size and readability are not compromised in any way as the small package houses a large, 0.37" (9.2mm) high, 3 1/2 digit display easily viewable from as far as 15 feet.

The 12-pin DIP package's unique design features a built-in, high-contrast, blue filter, enabling these subminiature DPM's to be used in stand-alone, pc-board-mount applications-no additional bezels, filters, or polarizers are required. Best of all, the entire assembly occupies only one square inch (6.5cm²) of valuable pc-board real estate!

High Brightness? Low Cost? Low Power Consumption?
The answers to the above questions are "yes, yes, and yes!" Until now, blue LED's have been expensive, notoriously power hungry and disappointingly dim. These three drawbacks all but ruled out their use in the vast majority of instrumentation applications. DATEL's new DMS-20PC-BS Series digital voltmeters rewrite all the rules! Their brilliant, 470nm wavelength (the truest blue) LED displays are visible in the brightest ambient lighting, but draw less than 1/2 Watt (85mA) from a single +5V supply-that's actually less than most standard-red LED displays. And, all this outstanding performance is available at the low price of just $33 each in OEM quantities.

Beauty That's More Than Skin Deep
DMS-20PC-BS Series meters combine precision bandgap voltage references and metal-film resistors to achieve unprecedented accuracy and stability at all input levels. An automatic zeroing
circuit ensures a zero display reading with a zero Volt input. Four differential, high-impedance input ranges are available: ±200mV, ±2V, ±20V, and ±200V. Factory calibration achieves an impressive ±2 counts (0.1%) long-term accuracy. And, for added versatility, a Display Enable input provides designers high-resolution control over the display's intensity.

Price and Availability
DMS-20PC-BS-Series meters are competitively priced at $50 each for singles and quickly drop to $33 each at 500 pieces. For higher quantities, additional OEM discounts are available. Small
quantities (<15 pieces) and free evaluation units for qualified OEM's are available from stock. Production quantities require 8-10 weeks.

Order On-Line
For the ultimate in convenience, DATEL now accepts credit card orders for digital panel meters at its website, www.datel.com. There you'll also find detailed data sheets, application notes, and pricing for all of DATEL's 300+ panel instruments.

Technical Contact:
Roy Cabral, Product Marketing Manager
E-mail: royc@datel.com Internet: www.datel.com
Tel: (508) 339-3000, (800) 233-2765 (USA)
Fax: (508)-339-6356

DATEL. Inc. 11 Cabot Boulevard, Mansfield, MA 02048-1151
INNOVATION and EXCELLENCE Tel: (508) 339-3000 FAX: (508) 339-6356 Internet: www.datel.com Email: sales@datel.com

More from Electronic Components & Devices