Digital Oscilloscope tests VFD-controlled motors.
Press Release Summary: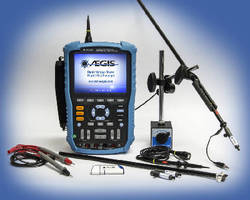 Designed to check in-service motors for damaging VFD-induced shaft voltages, AEGIS® Shaft Voltage Tester™ Digital Oscilloscope comes with conductive microfiber tipped probe, probe holder with magnetic base, and carrying case. Two-channel, 100 MHz oscilloscope features 5.7 in. color TFT LCD, multi-language user interface, and 5-hr rechargeable/replaceable lithium-ion battery pack. Capable of sampling rates from 1–50 GSa/s, oscilloscope has USB port for data transfer or flash drive storage.
---
Original Press Release:

New Digital Oscilloscpe Comes with Everything You Need to Test VFD-Controlled Motors for Damaging Shaft Voltages



MECHANIC FALLS, ME – Industrial motors controlled by variable frequency drives (VFDs) are at risk of electrical bearing damage.  The new AEGIS® Shaft Voltage Tester™ Digital Oscilloscope makes it easier than ever to check in-service motors for damaging VFD-induced shaft voltages and head off bearing damage and costly unplanned equipment downtime.



The AEGIS® Shaft Voltage Tester™ Digital Oscilloscope is specially designed and configured to take and capture highly accurate voltage measurements from the spinning shafts of motors.  A complete package, the CAT II/III digital oscilloscope comes with a special conductive microfiber tipped probe for exceptional shaft contact, a probe holder with magnetic base, and a compact carrying case. The 2-channel, full-function 100 MHz oscilloscope has a 5.7" TFT LCD color display, a multi-language user interface, and a 5-hour rechargeable/replaceable lithium-ion battery pack. The oscilloscope is capable of sampling rates of 1 GSa/s to 50 GSa/s and has a USB port for data transfer or flash drive storage.  The handy AEGIS® One-Touch TM screen capture feature dramatically simplifies data collection for reporting and analysis.  Screen images can be saved to a USB simply by pushing and holding the "Save" button for 6 seconds. The AEGIS® Digital Oscilloscope can be configured for a variety of languages including English, German, French, Italian, Spanish, Portuguese, Russian, Simplified Chinese, Traditional Chinese, Korean, and Arabic.



With dual inputs, the AEGIS® Shaft Voltage Tester™ combines oscilloscope, multimeter, and recorder functions in a single unit. The multimeter function provides measurements for resistance (ohms), continuity, diode capacitance, DC volts, AC volts, DC current, and AC current–all at 6000 count display resolution.



AEGIS® Shaft Voltage Tester™ Digital Oscilloscopes are offered in several packages. Accessories include a 9V/4A power adapter, 1X/10X oscilloscope probes, test leads for the multimeter, a probe calibration tool, a rechargeable/replaceable 5-hour battery, and a USB flash drive with user manual.  In addition to the standard 90-day warranty, an extended 2-year warranty is available.  Replacement high-density conductive microfiber probe tips and spare batteries are also available.



If harmful shaft voltage levels are found, installing an AEGIS® Ring will divert these voltages safely to ground, extending motor life and ensuring the reliable, long-term operation of the VFD-driven motor system.



For more information, contact:

Adam Willwerth

Sales and Marketing Manager

31 Winterbrook Road

Mechanic Falls, ME 04256

Toll-Free: 1-866-738-1857

TEL: (207) 998-5140

FAX: (207) 998-5143

sales@est-aegis.com

www.est-aegis.com

More from Electronic Components & Devices