Digital Optical Isolator supports logic-level translation.
Press Release Summary: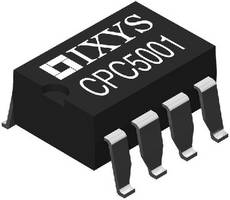 Operating from 2.7–5.5 V with logic-level inputs and open-drain outputs, Model CPC5001 supports 5 Mbaud data rates for digital communications over optical barrier while providing 3,750 Vrms of galvanic isolation. Channel 1 propagates signal from Side A to Side B, while Channel 2 sends signal from Side B to Side A. Available in 8-pin DIP or surface mount package, isolator requires no internal clocking and supports direct coupled logic-level isolation without refresh clocks.
---
Original Press Release:

IXYS Announces the CPC5001, Dual, One-Channel Each Direction Digital Optical Isolator



Operational from 2.7 to 5.5Volts with logic-level inputs and open-drain outputs



Beverly, Massachusetts, USA – IXYS Integrated Circuits Division (ICD), Inc., a wholly owned subsidiary of IXYS Corporation (NASDAQ: IXYS), announced the immediate availability of a new device for its family of high speed communication ICs, the CPC5001 Dual, One-Channel Each Direction Digital Optical Isolator.



The CPC5001 is a non-inverting logic-signal isolator with buffered-logic inputs and open-drain outputs. Channel 1 propagates a signal from Side A to Side B, while Channel 2 sends a signal from Side B to Side A. The CPC5001 supports 5Mbaud data rates for digital communications over an optical barrier while providing 3750Vrms of galvanic isolation.  



Available in an 8-pin DIP or 8-pin surface mount package, it functionally replaces two logic buffers and two single-channel optical isolators. Internal bandgap references regulate the input LED drive currents to 3mA to reduce peak power requirements.



While  competitive devices work with a minimum supply of 3.0V, the CPC5001 offers a higher degree of design flexibility with guaranteed operation as low as 2.7V. The wide operational power supply range specification of 2.7V to 5.5V enables logic-level translation applications.



This device is compatible with the IXYS-Zilog line of MCU for 'isolated' digital control in a wide range of applications, in power management, process control, LED lighting control, battery power management, industrial and motor control.



Unlike magnetically isolated digital isolator ICs, transformers, or capacitive isolators, the CPC5001 optical solution requires no internal clocking (a primary source of EMI/RFI interference in designs) and supports direct coupled logic-level isolation without refresh clocks. Input noise rejection (hysteresis) makes the CPC5001 ideal for the industrial power distribution market.  The CPC5001 utilizes slew limited output stages to reduce radiated emissions.  In addition, the unique design of the CPC5001 optical isolator offers excellent reliability and long operational life.  



The CPC5001 Dual High-Speed Digital Optical Isolator is ideal for clock, data, interrupt and reset signals in isolated line receiver and bus receiver applications. The device may be used in Power-over-Ethernet (POE) applications, providing buffering and isolation of signals between the host controller and the Power Supply Equipment (PSE) controller.  Additional applications include SPI bus interface, power supply high side interface and isolated signal monitoring and control.  The CPC5001 is certified to UL 1577 and EN/IEC 60950.



Pricing and Availability

The CPC5001 is available in production quantities.  Pricing for OEM quantities of 10KU is $1.45.



For additional information, please contact your local sales representative: http://www.ixysic.com/home/pages.nsf/locate.rep or visit http://www.ixysic.com/home/pdfs.nsf/www/CPC5001.pdf/$file/CPC5001.pdf



About IXYS ICD and IXYS, Inc.

IXYS Integrated Circuits Division, a leader in the design and manufacture of solid state relays and high voltage integrated circuits, is a wholly owned subsidiary of IXYS Corporation. IXYS Corporation develops and markets primarily high performance power semiconductor devices that are used in controlling and converting electrical power efficiently in power systems for the telecommunication and internet infrastructure, motor drives, medical systems and transportation. IXYS also serves its markets with a combination of digital and analog integrated circuits, power systems and RF GaAs and GaN based products. Additional information about IXYS Integrated Circuits Division, Zilog and IXYS may be found at www.ixysic.com, www.Zilog.com and www.ixys.com.



Catherine Austin

IXYS Integrated Circuits Division (formerly Clare)

Product Marketing Manager

More from Optics & Photonics