Digital Noise Dosimeter features cable-free, wearable design.
Press Release Summary: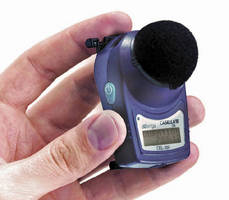 With 28-hr battery life, CEL-350L dBadge Lite enables users to monitor personal noise exposure for compliance with workplace noise regulations published by OSHA and ACGIH/NIOSH. Only 2 keys on side of instrument are used for all operations. At end of measurement run, user can download data to PC by pointing device at provided infrared download adaptor. Once downloaded into Casella Insight(TM) software, data can be stored under employees' name, location, or process.
---
Original Press Release:

Casella Ensures Cost is Not a Deterrent to Hearing Safety with Introduction of Affordable New Noise Dosimeter



AMHERST, NH, -- Casella USA has added a new model to its popular lightweight and cable-free dBadge(TM) noise dosimeter line, the CEL-350L dBadge 'Lite', which offers simple functionality at a very affordable price. The unit measures all the same overall occupational noise parameters as the original CEL dBadge except for the time history of exposure to noise levels, so it's ideal for users needing straightforward noise dose results at a low cost.

"The dBadge Lite shows Casella's commitment to continually improving its range of high quality exposure measurement instruments and ensures that cost need not be a deterrent to hearing safety," explained Bob Selwyn, Vice President of Sales and Marketing for Casella USA.

With its wearable design and 28-hour battery life, the dBadge Lite makes it simple to monitor personal noise exposure for compliance with workplace noise regulations published by OSHA and other regulatory and advisory agencies such as ACGIH/NIOSH. Because it eliminates the microphone cable the unit can be worn on a shoulder or clipped to a hat without disrupting the employee's movements. Plus, only two keys on the side of the instrument are used for all operations. The unit also has a unique 'fuel gauge' to display memory capacity and battery status in real-time.

Noise monitoring can be started within seconds of switching the dBadge Lite on. There is no setting up to worry about as the unit stores everything that is needed for all noise exposure regulations. At the end of the measurement run, simply unclip the dBadge. Next, the dBadge Lite data is downloaded to a PC automatically by pointing it at the infra-red download adaptor provided in the kits. Once downloaded into Casella Insight(TM) software, data can be stored under an employees' name, location or process so that a database of noise exposures can be built up and a report produced for the worker's noise exposure.

All digital technology ensures the utmost reliability and repeatability for the user to have the highest confidence in the quality of the measurements with the CEL-350 Lite dosimeter. There is a full upgrade path to add the additional functionality of the regular CEL-350 dBadges at any later stage by simple return to the service department in Amherst, NH.

For more information, please call 800-366-2966 or email info@casellausa.com. On the web at www.casellausa.com.

ABOUT CASELLA CEL

Founded in 1799 and headquartered in the United Kingdom, Casella CEL is one of the world's leading suppliers of environmental monitoring technologies. It is an ISO 9001-2000 and ISO 14001 certified company with a focus on the development and manufacture of state-of-the-art environmental monitoring instrumentation. Casella CEL instruments are preferred around the world for personal air sampling, real-time dust and particulate measurement, heat stress measurement, IAQ assessment, weather and rainfall monitoring, personal noise dosimetry, environmental noise measurement and real-time frequency analysis. In 2006, Casella CEL was acquired by Ideal Industries, Inc. For more information, please visit www.casellameasurement.com.

Casella USA is the North American subsidiary of Casella CEL and is headquartered in Amherst, New Hampshire. Sales, service and instrument recalibrations are carried out in the Amherst office by factory trained engineers. This office covers all sales in Canada, the USA and Mexico. For additional information, please visit www.casellausa.com.

®2010 Casella CEL. All product names and trademarks belong to their respective owners. Information in press releases, including without limitation product, specifications, and contact information, is current on date of the release, and is subject to change without notice. Reseller prices may vary.

More from Electronic Components & Devices