Digital Multimeter includes built-in USB 2.0 interface.
Press Release Summary: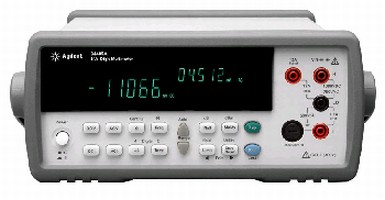 Featuring 5.5-digit display, benchtop Model 34405A provides measurements of DCV, DCI, True-RMS ACV and ACI, 2-wire resistance, frequency, and continuity, as well as temperature and capacitance. It offers dual display capabilities, 0.025% DC accuracy, and 120,000 counts resolution. Agilent IO Library Suite and DMM Intuilink connectivity software facilitate programming and transferring of measurement results to PC.
---
Original Press Release:

Agilent Launches New Feature-rich Benchtop Digital Multimeter Specially Designed Tool Built for Quality-conscious, Cost-sensitive Users



PALO ALTO, Calif., May 10, 2006 -- Agilent Technologies Inc. (NYSE: A) today introduced a new affordable digital multimeter specially designed to help manufacturers and educational institutions control costs on test and measurement equipment.

The new Agilent 34405A is a 5.5-digit benchtop digital multimeter that provides accurate and fast measurements. It provides a broad range of measurement functions with expanded capabilities, such as temperature and capacitance measurements, and comes with built-in USB 2.0 interface.

"Our customers have been looking for entry-level products that deliver fast and accurate measurements at the same level of reliability that Agilent is well-known for," said Ee Huei Sin, vice president and general manager, Agilent Basic Instruments Division." We are proud to launch this new digital multimeter, which will meet their performance needs while helping them manage costs."

Expansion of Agilent Benchtop Multimeter Product Family

The Agilent 34405A is an expansion of the existing Agilent 34401A, 34410A and 34411A product family, which offers value, performance, reliability and ease-of-use, and is part of the Agilent Open suite of products and services.

The key benefits and features of the Agilent 34405A include easy-to-read AC and DC measurements with dual display capabilities, 0.025 percent DC accuracy and 120,000 counts resolution.

Other product features include:
o DCV, DCI, True-RMS ACV and ACI, two-wire resistance, frequency, continuity and diode test;
o Standard Commands for Programmable Instrumentation (SCPI) compatibility; and
o Agilent IO Library Suite and DMM Intuilink connectivity software that provide ease of programming and transferring of measurement results to PC.

U.S. Pricing and Availability
The Agilent 34405A is priced at $745 and is available now. Customers may order online at www.agilent.com/find/OnlineStore.

More information about the Agilent 34405A digital multimeters can be found at www.agilent.com/find/34405A. High-resolution images are available at www.agilent.com/find/34405A_images.

About Agilent Open
Agilent Open simplifies the process of connecting and programming test systems to help engineers design, validate and manufacture electronic products. Agilent combines a broad range of system-ready instruments, open industry software, PC-standard I/O and global support to accelerate test-system development. More information is available at www.agilent.com/find/open.

About Agilent Technologies
Agilent Technologies Inc. (NYSE: A) is the world's premier measurement company and a technology leader in communications, electronics, life sciences and chemical analysis. The company's 20,000 employees serve customers in more than 110 countries. Agilent had net revenue of $5.1 billion in fiscal 2005. Information about Agilent is available on the Web at www.agilent.com.

NOTE TO EDITORS: Further technology, corporate citizenship and executive news is available on the Agilent news site at www.agilent.com/go/news.

Janet Smith
+1 970 679 5397
janet_smith@agilent.com

More from Materials