Digital Meters deliver visibility in low light situations.
Press Release Summary: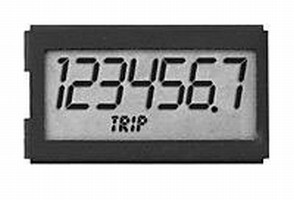 Series T45 Solid State Digital Modules come in 4 versions: T45A2 Trip Odometer, T45A3 Maintenance Hour Meter (1/10), T45A4 Counter, and T45A5 Maintenance Hour Meter (1/100). Featuring 2-channel design with resettable second channel, all models have 7-digit, 7-segment LCD display and operate from 8-28 Vdc (backlight from 9-15 Vdc) in -40 to +85°C temperatures with ±0.01% accuracy. Available with black or chrome bezels, standard unit has yellow-green (570 nm) backlight.
---
Original Press Release:

T45 LCD Odometer/Hour Meter/Counters Deliver Visibility in Low Light Situations



ENM's Series T45, 7mm, Solid State Digital Modules are offered in 4 versions including T45A2 Trip Odometer, T45A3 Maintenance Hour Meter (1/10), T45A4 Counter, and T45A5 Maintenance Hour Meter (1/100).

With two channel design with resettable second channel, all models feature a 7-digit, 7-segment LCD display with operating indicators and optional backlighting for visibility in low light situations. Nonvolatile memory retains data for over 10 years without power. Modules are ideal for PCB mount and/or maintenance applications.

The T45 module operates from 8-28 VDC and backlight from 9-15 VDC in -40° C to +85° C temperatures with accuracy better than +/- 0.01% over entire range. Available with black or chrome bezels, backlight is offered in Yellow-Green (570nm, standard), with Blue, Orange, Red & Yellow available.

Datasheet can be found at http://www.enmco.com/pdf/676.PDF

Features

o Non-volatile memory (no battery)
o Low operating current
o Low cost and small size
o Two channel design with resettable second channel
o Very high shock and vibration specs
o Solid state circuitry for high reliability
o Wide operating voltage and temperature range
o Long life LED backlighting
o Running indicator for hour meter
o Quartz crystal for high accuracy
o Made in the U.S.A.

Specifications:


Display Reading:	0.0 to 999999.9 Hour Meter (1/10)

                        .00 to 99999.99 Hour Meter (1/100)

                        0.0 to 999999.9 Odometer

                        00 to 9999999 Up Counter

                        Automatic recycle on overflow

                        Identical capacity for both channels

Digit Height: 		7mm digits

Count Speed: 		500 Hz max

Operating Voltage: 	8-28VDC (Module)

                        9-15VDC (Backlight)

Operating Current: 	<4mA nominal @ 8-24VDC (Module)

                        12.5mA maximum @ 28VDC (Module)

                        <26mA nominal @ 12VDC (Backlight)

                        36mA maximum @ 15VDC (Backlight)

Operating

Temperature:		 -40°C to +85°C

Vibration Resistance:	Withstands 10 to 75Hz @ 1 to 8 G's

Shock Resistance: 	SAEJ137853G

Accuracy: 		Better than ± 0.01%

Humidity: 		95% RH @ 32°C for 2 hours

Protection: 		Alternator load dump, inductive switching & reverse polarity

Bezel Styles: 		Black or Chrome

Backlight Color: 	Yellow-Green (570nm, standard)

                        Blue, Orange, Red & Yellow available


About ENM
ENM Company is proud to have a product line that covers almost any counting or timing application. We can also modify any existing standard design to accommodate your needs. With ENM as a supplier, you will have the highest quality, quickest delivery, and the expertise of over 45 years of experience as an OEM supplier of counters and hour meters on your side. And we're ISO 9001:2000 registered.

ENM products are used by original equipment manufacturers in medicine, office products, casinos, off-road equipment, standby generators and other field

More from Test & Measurement