Digital Media Player delivers entertainment throughout home.
Press Release Summary: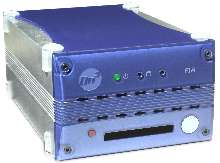 FIA On3 home entertainment device lets users view videos and photos on TV and listen to MP3 music on personal stereos. With 120 GB storage library, users can store hundreds of digital files and instantaneously access media. Portable unit can be used in stand-alone mode, through wireless connectivity, or when connected to Ethernet LAN. It condenses all digital media and stores information onto one unit then disperses it in up to 4 rooms.
---
Original Press Release:

FIA Introduces New Digital Media Player and Library: The FIA On3 Starts at $699


Videos, Music, and Photos On Demand and as Simple to Use as 1, 2, On3

San Clemente, California, January 08, 2004 -Today, First Intelligent Array (FIA, Inc.), announced the FIA On3 Digital Media Player and Library, an easy-to-use home entertainment device that lets you view videos and photos on your TV, and listen to MP3 music on your stereo. It's designed to provide families with turnkey entertainment throughout the home. The FIA On3 lets you store hundreds of digital files on its 120-gigabyte storage library, and allows instant access to your media because the unit is always on and always ready. The size of the unit is portable and can be used in stand-alone mode, wireless or connected to an Ethernet LAN.

Unlike any other media playing device on the market today, the FIA On3 is the first entertainment device that condenses all digital media from camera, MP3 audio, and videos, and stores this information onto a single unit, then disperses it throughout the home using an optional FIA On3-xr (extra room) station. Your media files can be viewed and heard in up to 4 rooms throughout the house. The information is managed remotely and distributed via broadband or wireless connection. Additionally, the FIA On3 incorporates technology that merges digital photos and audio to create a personal slideshow to entertain family and friends.

"Most digital entertainment today is stored on home PCs, and require independent devices to review its content," said Gene Lu, president and CEO of FIA, Inc. "This can sometimes be cumbersome when its time to share family entertainment. The FIA On3 provides an all-in-one solution for storing and sharing personal entertainment media, and is as easy to use as 1,2, On3. We have developed a technology that provides simplicity to the consumer, with instant media play capability, data sharing and storing in a compact tabletop form factor. Currently no other vendor provides all these features in a single product."

The low-cost FIA On3 Player starts at $699, and is simple to use. It supports industry standard operating systems in both the Apple and MS Windows environment. Once the your digital media is transferred from your PC onto the FIA On3, the PC is no longer required to view and listen to your media.

The FIA On3 digital media player and library come with features to simplify viewing and audio playing. Simple setup functions lets you quickly and easily install the unit in less than five minutes and two mouse clicks, making your entertainment media instantly accessible. The FIA On3 is ideal for families who want to instantly access their entertainment media files, condense their media files, and share their media files.

Available late February 2004, the FIA On3 120-gigabyte player and library is a flexible entertainment device that can be purchased at an unbelievably low price. Starting price for model 120 GB is $699. The optional FIA On3-xr Station is $399. All products are suggested retail price and are listed in US dollars. Reseller pricing will vary, and special discounts are available for quantity purchases. All products are backed by a limited one-year manufacturer's warranty and is supported by FIA, Inc.'s skilled customer service and support organization.

About First Intelligent Array (FIA, Inc.)

Headquartered in San Clemente, California, FIA, Inc. develops and markets an innovative line of network-attached storage (NAS) servers. Founded in 2000 by a team of seasoned technology entrepreneurs, FIA develops proprietary NAS technologies that deliver the high levels of performance, availability, and reliability demanded by today's information-centric economy. FIA is a wholly owned subsidiary of WBL Corporation, a billion dollar organization that is ranked among the top 100 companies by market capitalization on the Singapore Exchange Securities Trading Limited (SGX-ST). Additional information about FIA, Inc. can be found by visiting the company's web site at www.FIAinc.net.

More from Agricultural & Farming Products