Digital Mass Flow Meter has low pressure drop design.
Press Release Summary: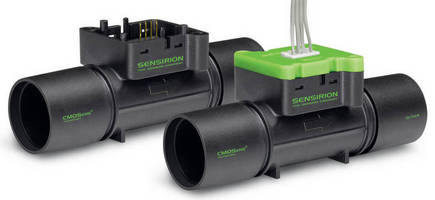 With flow channel that achieves pressure drop of less than 3 mbar through sensor element, SFM3000 bi-directionally measures flow of air and other non-aggressive gases at rates to 200 slm. Performance of SFM3000 gas flow sensor is based on CMOSens® Technology, which combines sensor element, signal processing, and digital calibration on one microchip. Internally linearized and temperature compensated, 14-bit digital signal is output at 2 kHz update rate.
---
Original Press Release:

New Low-Pressure-Drop Digital Flow Meter



Swiss sensor manufacturer Sensirion is launching the new digital SFM3000 mass flow meter for high-volume applications in medical devices, process automation and burner control. The flow channel is designed to achieve a very low pressure drop of less than 3mbar through the sensor element. The flow meter bi-directionally measures the flow of air and other non-aggressive gases at rates up to 200slm with high accuracy and very high speed. It outputs a 14-bit digital signal at a 2kHz update rate. The signal is internally linearized and tempera-ture compensated. Furthermore, the new mass flow meter operates from a 5Vdc supply voltage and features a digital 2-wire interface, mak-ing it easy to connect directly to a microcontroller.

The outstanding performance of the SFM3000 gas flow sensor is based on Sensirion's patented CMOSens® Technology, which combines the sensor element, signal processing and digital calibration on a tiny microchip. Gas flow is measured by a thermal sensor element to provide an extended dynamic range and enhanced long-term stability compared to other flow measuring technologies. Thanks to the proven CMOSens® technology, the flow meter is suited for high-quality mass produc-tion and is the ideal choice for demanding and cost-sensitive OEM applications in medical ventilation and anesthesia, as well as process automation and burner control.

Website: www.sensirion.com/en/sfm3000

Datasheet (preliminary): www.sensirion.com/file/datasheet_sfm3000

About Sensirion
The Swiss sensor manufacturer Sensirion AG is a leading international supplier of CMOS-based sensor components and systems. Its range of high-quality products includes humidity and temperature sensors, mass flow meters and controllers, gas and liquid flow sensors, and differential pressure sensors. Sensirion supports its international OEM customers with tailor-made sensor system solutions for a wide variety of applications. Among others, they include analytical instruments, con-sumer goods, and applications in the medical technology, automotive and HVAC sectors. Sensirion products are distin-guished by their use of patented CMOSens® technology. This enables customers to benefit from intelligent system integra-tion, including calibration and digital interfaces. Sensirion's competence as a reliable OEM partner is underlined by its quality management system, in accordance with the ISO/TS 16949 standard.

Contact: www.sensirion.com, info@sensirion.com, Tel. +41 44 306 40 00, Fax +41 44 306 40 30

More from Packaging Products & Equipment