Digital Mass Flow Meter/Controller offers MODBUS capability.
Press Release Summary: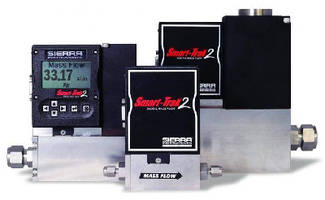 Employing frictionless-hovering, direct-acting control valve technology, Smart-Trak® 2 delivers true linear performance and flexibility to work with multiple gases. Dial-A-Gas® Technology lets users select from up to 10 pre-programmed gases or substitute their own, each of which may be independently adjusted/calibrated in field. Along with Pilot Module for in-field viewing/changing of critical control functions, meter gain MODBUS RTU networking capability via Compod(TM) add-on module.
---
Original Press Release:

Sierra Introduces Next Generation Flow Meters and Controllers



This week, Sierra Instruments introduced their Smart-Trak® 2, a significant re-design of their flagship Series 100 Digital Mass Flow Meters and Controllers. The result of over five years of user feedback, new features of the Smart-Trak® 2 have added even more control, independence and flexibility. Sierra is also proud to introduce the Compod(TM), a Smart-Trak® 2 add-on that expands networking, streamlines and simplifies functionality and reduces costs.

"We see this as adding a fourth point to our three-point Global Stimulus campaign we rolled out last month," says Matthew J. Olin, President and CEO of Sierra Instruments. "Providing #1 cost-cutting, #2 free engineering and #3 expedited product delivery are crucial first steps for the hard-hit industries we serve. Now it's time to bring them #4 innovative new Sierra products that will help expand their capabilities without increasing costs."

Expanded Functionality of Smart-Trak® 2 Includes:
o True linear performance provides high accuracy and great flexibility in multiple gases o With Dial-A-Gas® Technology, users select from up to ten pre-programmed gases or substitute their own o The ability to adjust calibration in the field for each of these 10 gases independently o Unique Pilot Module (mounted or hand-held) lets users view and change critical control functions in the field o Proprietary frictionless-hovering direct-acting control valve technology o MODBUS RTU networking capability with Sierra Compod(TM)

Ideal for OEM, industry, or research applications, it builds upon the performance and user-friendliness end-users came to expect with the original Smart-Trak. Smart Trak® 2 provides the most advanced linear sensor available, smoother valve performance, more robust electronics and more control over a wide range of functions.

With its advanced capabilities, the Compod(TM), coupled with Sierra's Smart-Trak® Model100 mass flow meters or controllers, greatly simplifies basic flow control installations and permits networking of multiple instruments using open-source MODBUS RTU protocol.

By adding the Compod(TM) module to a new or existing Smart-Trak®, end users can take complete control of gas mixing and blending, batch control, leak testing and process monitoring.

Learn more about the Smart-Trak® 2 by visiting sierrainstruments.com/ST2 . Visit www.sierrainstruments.com/products/compod.html for more on the Compod.

Complete technical information is available online at www.sierrainstruments.com or free of charge from Sierra Instruments, Inc., 5 Harris Court, Building L, Monterey, CA 93940, phone 800.866.0200, fax 831.373.4402.

More from Agricultural & Farming Products