Digital Mailing System processes up to 150 letters/min.
Press Release Summary: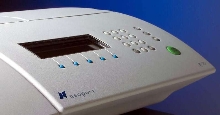 To help eliminate errors in mailroom and office environments, IJ 70 calibrates length, width, and thickness up to 5/8 in. to ensure proper amount of postage is applied to each piece of mail. It uses digital ink jet technology to print USPS mandated IBIP 2D barcodes and automatically advances date on meter. System stores up to 10 preset job functions and lets up to 200 departments charge back their own postage using pin codes to ensure security.
---
Original Press Release:

Neopost Announces Solution for Mid-Volume Mailing Needs


IJ 70 Digital Mailing System Ideal for Mailroom and Office Environments

Neopost, the worldwide provider of mailing, addressing, document handling and mail management systems, introduces its new digital mailing system, the IJ 70. Ideal for mid-volume mailing, the IJ 70 provides mailrooms and offices with increased productivity while eliminating errors and reducing costs.

The IJ 70 intelligently processes up to 150 letters per minute while calibrating length, width, and thickness up to 5/8" to ensure the proper amount of postage is applied to each piece.

The user-friendly IJ 70 simplifies the mailing process further by automatically adjusting for document thickness and advancing the date on the meter, as well as featuring ten preset job functions. Perfect for tracking departmental costs, the IJ 70 allows up to 200 departments to charge back their own postage while using their own pin codes to ensure security.

This mailing system also includes advanced digital ink jet technology for crisp, clean printing of the United States Postal Service® (USPS) mandated IBIP 2D barcodes. The IJ 70 even prints cleanly on large-format envelopes and portrait-style flats.

For increased flexibility, the IJ 70 offers a modular design with additional mailing features, including a differential weighing platform, high-capacity stacker, thermal roll tape dispenser, and additional departments for mail accounting.

The IJ 70 digital mailing system is available through Neopost's network of more than 150 branch offices and dealer locations throughout North America. For sales information, call the customer hotline at 1-888-Neopost (636-7678), or visit www.neopostinc.com.

About Neopost

Neopost is a leading provider of mail, folding/inserting and mail accounting solutions, with products sold in the 5 largest global markets. Over Neopost's 80 year history, the company has produced many significant product breakthroughs, including everything from the first electronic postage meter, to the first folder/inserters with automated setting adjustments, to its flagship digital ink jet mailing systems. Neopost's innovative products and services all have one thing in common: they bring simplicity and efficiency to the complete mailing process in order to make businesses run more effectively.

For more information, call 1-888-Neopost (636-7678) or visit Neopost at www.neopostinc.com.