Digital Mailing System handles large mailings.
Press Release Summary: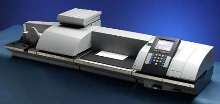 Modular IJ105 outputs up to 217 letters/min and features touch screen and keyboard system to facilitate navigation. Able to process mail pieces of varying thickness, system includes static weighing platform for parcels, and in-motion weighing platform that automatically prints correct postage. It holds 6 preset memorized jobs and utilizes HP inkjet technology to ensure 2D IBIP postage indicia.
---
Original Press Release:

Neopost Introduces the IJ105 in the US


The Ideal High Speed Digital Postage Solution for Demanding Mail Centers

Neopost, the worldwide provider of mailing, addressing, document handling and mail management systems, introduces to the U.S. market its IJ105 digital mailing system. Neopost's IJ105 is the ultimate in-motion weighing system for large mailings, combining an unprecedented level of high-speed performance and quality. The IJ105 is the latest addition to Neopost's series of new digital mailing systems that are IBI compliant.

The IJ105's speed and modularity offers a long lasting solution to companies with sizable monthly mailings or large direct mail marketing programs. Ranked as one of the fastest digital mailing systems for mixed weight and in-motion processing, the IJ105 can output up to 217 letters per minute.

The IJ105 is designed to meet the most demanding mail center needs. It features the only touch screen and keyboard system on the market. Unlike other products that have a key command, the IJ105 uses innovative technology that enables users to easily navigate by simply touching the screen. Its advanced features also include fast processing of mail pieces of varying thickness, a static weighing platform for parcels and large items, and an in-motion weighing platform that automatically prints the correct postage.

Additionally, the IJ105 utilizes Hewlett-Packard inkjet technology ensuring a two-dimensional, "ultra-secure," IBIP postage indicia with crisp, clear print quality. Other standard features include six preset memorized jobs, quick and easy postage refill (via direct modem connection), United States Postal Service domestic and international mail classes and special services, ten advertising messages, and departmental accounting. A high-capacity power stacker and other high performance options are also available.

The IJ105 is available through Neopost's network of more than 150 branch offices and dealer locations throughout North America. For sales information, call the customer hotline at 1-888-Neopost (636-7678), or visit www.neopostinc.com.

About Neopost

Neopost is a leading provider of mail, folding/inserting and mail accounting solutions, with products sold in the 5 largest global markets. Over Neopost's 80 year history, the company has produced many significant product breakthroughs, including everything from the first electronic postage meter, to the first folder/inserters with automated setting adjustments, to its flagship digital ink jet mailing systems. Neopost's innovative products and services all have one thing in common: they bring simplicity and efficiency to the complete mailing process in order to make businesses run more effectively.

For more information, call 1-888-Neopost (636-7678) or visit Neopost at www.neopostinc.com.

More from Thermal & Heating Equipment