Digital Load Cell targets packaging machines.
Press Release Summary: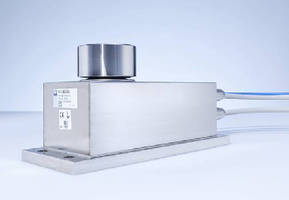 Suitable for sorting weighers and checkweighers used in food industry, FIT7A Digital Load Cell enables machines to make up to 180 weighings/min. Strain gauge-based unit features accuracy class C4 per OIML R60. Using intuitive interface of PanelX HBM software for configuration, load cell enables signal analysis and adjustment of digital filters to suppress interference. IP66-rated unit includes dosing mode, 4 limit value switches, and trigger mode.
---
Original Press Release:

New Digital Load Cells for Packaging Machines Provide High Performance of EFC Sensors at 60 Percent Less Cost



Marlborough, Massachusetts —  HBM , Inc. (www.hbm.com),  a leading manufacturer of data acquisition systems, analysis and calibration software, strain gauges, transducers and sensors, introduces its FIT7A digital load cell.  The FIT7A load cell not only provides nearly the same speed and accuracy of Electromagnetic Force Restoration (EFR) sensors normally found in modern packaging machines, but it does so at 60 percent less cost. This new strain gauge-based load cell makes it possible to develop completely new machine types and will allow OEMs to serve new market segments.



For example, FIT7A load cells are a perfect fit for sorting weighers and checkweighers used in the food industry. These load cells will help manufacturers package products quickly with the lowest possible amount of overfilling. With the FIT7A, machines can make up to 180 weighings per minute, more than any competing weight sensor.



The FIT7A is as accurate as it is fast. It has an accuracy class C4 per OIML R60 and a maximum scale interval factor Y of up to 25,000 in legal for trade applications. However, in non-legal for trade applications where the value is extremely low, a Tco of less than 40ppm/10k is guaranteed.



Because the FIT7A is a digital sensor, it is easily configurable and offers many signal conditioning functions. The PanelX HBM software provides support for the configuration process with an intuitive user interface. In addition, the FIT7A enables signal analysis and adjustment of the digital filters to effectively suppress all kinds of interference. Other key features include a dosing mode, four limit value switches, trigger mode (external or level), and an IP66 rating.



For further information on weighing technology from HBM see www.hbm.com/fit7



About HBM, Inc.

For more than 60 years, the name HBM stands for reliability, precision and innovation all over the world. HBM offers products and services for an extensive range of measurement applications in many industries. Users worldwide rely on the perfectly matched components of the measurement chain that guarantees maximum accuracy of measurement results and enables optimization of the complete product life cycle, from the development through the testing stages, as well as in manufacturing and production. Their product range covers sensors, transducers, gauges, amplifiers and data acquisition systems as well as software for structural durability investigations, tests and analysis. The potential fields of application can be found in every branch of engineering in both virtual and physical test and measurement.



HBM has 27 subsidiaries and sales offices in Europe, America and Asia. HBM also has representatives in another 40 countries around the world. In addition to headquarters in Darmstadt, Germany, other HBM production facilities are located in Marlboro, Massachusetts, and Suzhou, China.

More from Machinery & Machining Tools