Digital Isolation Devices feature 2.5 kVrms rating.
Press Release Summary: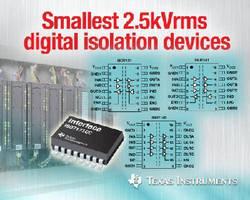 Housed in 5 x 6 mm QSOP package, ISO71xx Series includes triple-channel and quad-channel devices based on integrated silicon dioxide capacitors. Units provide typical common-mode transient immunity of ±75 kV/µs for noisy industrial environments as well as resistance to electromagnetic interference. Devices incorporate glitch filter to smooth operation at lower frequencies. With power rating of 1 mA per channel, ICs support 2.7, 3.3, and 5 V power supplies.
---
Original Press Release:

TI Introduces Smallest 2.5-kVrms Digital Isolation Devices



Industry-leading combination of galvanic isolation and small package provide high level of protection in industrial applications



DALLAS -- Texas Instruments (TI) (NASDAQ: TXN) today introduced the industry's first family of digital isolation devices to offer the highest isolation rating, at 2.5 kVrms, in a small, 5- by 6-mm QSOP package. The ISO71xx family is 50-percent smaller than traditional SOIC isolation devices and provides an isolation rating 2.5 times better than competitive devices in the same package. Reducing board space without compromising protection from lower isolation ratings or EFT surges is increasingly important in industrial automation applications, such as programmable logic controllers (PLCs) and sensors, and Fieldbus applications, such as DeviceNet, CAN and RS-485. The low-power ISO71xx family of isolation devices meets these demands by offering up to 2.5 times higher common-mode transient immunity and 30-percent better maximum working voltage, versus similar devices. For more information and to order samples, visit www.ti.com/iso7131-pr.



The family includes six triple and quad devices based on integrated silicon dioxide capacitors and provides both resistance to electromagnetic interference (EMI) and lower EMI radiance to provide increased reliability in harsh environments. To further enhance performance, the devices incorporate a glitch filter to smooth operation at lower frequencies. And with a power rating of approximately 1 mA per channel, the new isolation devices enable low power in these environments.



Key features and benefits of the ISO71xx devices



--  2.5 times higher galvanic isolation rating: Boast an impressive 2.5 kVrms isolation rating, compared to 1 kVrms offered by competitive devices in the same package. This results in higher-end performance in tight, space-constrained designs, such as PLCs and inverters.

--  Smallest package: Offered in16-pin QSOP packages, measuring 5- by 6-mm (30mm(2)), the devices reduce board space by up to 72 percent versus typical 16-pin SOIC packages.

--  Up to 2.5 times higher transient immunity: With a typical common-mode transient immunity of +/-75 kV/us, these isolation devices provide better immunity in noisy industrial environments, compared to competitive devices that are rated at +/-25 kV/us or +/-50 kV/us.

--  Flexibility with power supplies: Provide support for 2.7-, 3.3- and 5-V power supplies, giving designers maximum flexibility in power supply design.



By combining the ISO71xx family with TI's wide portfolio of gate driver ICs, such as the UCC27531,  UCC27517 or UCC27211, it is possible for designers to build compact, high-speed, industrial automation systems and offline, isolated switch-mode power supplies where there is need for the PWM control signal to cross the isolation barrier from one side and drive power semiconductor switches on the other side with short propagation delays.



Tools and support

The low-power digital isolation evaluation moduleis available to evaluate the isolator performance and parameter using the ISO71xx family. It can be ordered today for US$79. 



Support is available on the Industrial Interface Forum in the TI E2E(TM) Community, where engineers can ask questions and get answers from TI experts.



Availability, packaging and pricing

The triple ISO7131CC and quad ISO7140FCC, ISO7140CC, ISO7141FCC, ISO7141CC and ISO7142CC devices are available in 16-pin, 5- by 6-mm QSOP packages. Suggested retail pricing in 1,000-unit quantities starts at US$1.60.



Learn more about TI's isolation portfolio by visiting the links below:



--  Order ISO7131 or ISO7141 samples.

--  Order ISO71xx evaluation modules.

--  Learn how to isolate a power supply for RS-485 and CAN.

--  Follow what TI signal chain experts have to say on our signal chain blog: Analog Wire.

--  Download a news release graphic at: www.ti.com/newscenterphotos-pr.



TI analog for industrial

TI is the industrial semiconductor leader, providing a diverse and readily available portfolio of analog integrated circuits (ICs) for a broad range of applications, including smart grid, factory automation, high-voltage power, LED lighting and control.  TI data converters, amplifiers, interface, isolation, clocking, and power management devices enable customers to differentiate their products, while TI software, design tools and reference designs simplify and accelerate design cycles. Learn how TI analog innovations are improving industrial safety, efficiency and reliability at www.ti.com/analogindustrial-pr.



About Texas Instruments

Texas Instruments Incorporated (TI) is a global semiconductor design and manufacturing company that develops analog ICs and embedded processors. By employing the world's brightest minds, TI creates innovations that shape the future of technology. TI is helping more than 100,000 customers transform the future, today. Learn more at www.ti.com.



Trademarks

TI E2E is a trademark of Texas Instruments. All other trademarks and registered trademarks belong to their respective owners.

More from Controls & Controllers