Digital Insulation Meter safeguards equipment, employees.
Press Release Summary: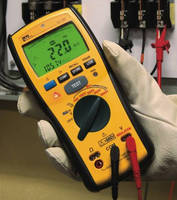 Able to be held in one hand, model 61-797 allows periodic testing of insulation for signs of deterioration to prevent short circuits or short to grounds. It identifies capacitive, absorption, and leakage current at 5 test voltages from 50-1,000 V and resistance up to 20 GW. In addition to measuring earth-bond resistance to assure verification of continuity of protective bonding, tester calculates polarization index and dielectric absorption ratio.
---
Original Press Release:

IDEAL Digital Insulation Meter Safeguards Equipment and Employees



SYCAMORE, IL -- Damaged electrical insulation threatens equipment operation and endangers employee safety. The IDEAL 61-797 Digital Insulation Meter allows for periodic testing of insulation for signs of deterioration that can lead to breakdowns in electrical systems, generators, switchgear and motor windings. More importantly, testing with the 61-797 can prevent the dangerous occurrence of short circuits or short to grounds.

Compact enough to be held in one hand yet durable enough to withstand the rigors of heavy commercial and industrial usage, the 61-797 is purpose-designed to identify whether insulation is performing at an effective, safe level. Using test leads, the technician can quickly determine the integrity of insulation in new and existing wiring by identifying capacitive, absorption and leakage current at multiple test voltages (50V, 100V, 250V, 500V and 1000V) and resistance up to 20G ohms.

In addition, this versatile tester measures earth-bond resistance to assure verification of the continuity of the protective bonding, automatically senses and displays AC/DC voltage to 600V, plus calculates the Polarization Index (PI) and Dielectric Absorption Ratio (DAR).

Insulation testing is most effective when it is part of a scheduled maintenance program. Repetitive testing is made easier with the 61-797's straightforward Pass/Fail function and its internal storage of values. Another convenience feature that will be appreciated by maintenance staff are the included "twist-on" alligator clips that fit over the test leads. There is also a remote test button for two-handed operation.

The 61-797 was designed with a 600 V Cat IV overvoltage rating and will safely disable itself if connected to a live circuit exceeding 30 volts. A live voltage hazard indictor is also prominently displayed on the front panel to warn the technician before use on an energized circuit. Once testing is complete, the 61-797 automatically discharges capacitive voltage from the equipment under test that may be a shock hazard.

The IDEAL 61-797 ships complete with carrying case, test leads and batteries.

For more information, contact IDEAL INDUSTRIES, INC., Becker Place, Sycamore, Illinois 60178. Or phone 1-800-947-3614, Fax: 1-800-533-4483. On the web, www.idealindustries.com.

ABOUT IDEAL INDUSTRIES, INC.
IDEAL INDUSTRIES, INC. has been serving the electrical industry since 1916. IDEAL is one of the world's leading manufacturers of professional quality tools and supplies serving installation professionals in the construction, maintenance, data communications and original equipment manufacturing industries.

Related