Digital Inspection Microscope has HDMI and USB outputs.
Press Release Summary: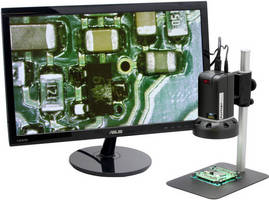 Cyclops, supplied with 4x objective lens (10x optional), lets users see magnified views via direct connection to HD monitor via HDMI output or computer via USB output. In HDMI mode, magnification is 15x–270x on 21.5 in. HD monitor. Magnification increases up to 534x if USB cable is used for PC viewing. Adaptable instrument, featuring 5 MP CMOS sensor and 30 LEDs, lets operators see 30 fps video or single frames. Also included, image capture software provides measurement and editing tools.
---
Original Press Release:
Aven Cyclops Digital Scope has HDMI and USB Outputs
ANN ARBOR, MI – A versatile inspection microscope introduced by Aven, Inc. connects directly to a HD monitor as well as to a computer.

The new Aven Cyclops Digital Microscope, with HDMI and USB output modes, lets users see magnified views in two ways.

In HDMI mode, it has a magnification range of 15x to 270x on a 21.5" HD monitor. If the USB cable is used for PC viewing, magnification increases up to 534x.

"This adaptable instrument has built-in flexibility," says Aven president Mike Shahpurwala. "Operators can see video or single frames on their monitor – bypassing a computer if they needn't be saved or shared right away.

"Two signal output choices on one scope are a real breakthrough," adds the Michigan company's founder.

A 5-megapixel CMOS sensor and 30 LEDs provide crisp, clear images. Brightness and sector controls regulate the illumination.

Image capture software furnished with the Cyclops includes measurement and editing tools. Video is recorded at 30 frames per second. Cyclops is compatible with Windows 7 or 8.

Gain control is automatic, while white balance can be set manually if preferred. A white balance card and calibration scale also are provided.

A 4x objective lens is included and a 10x lens is available.

Accompanying accessories include a metal stand, power adapter and infrared remote control for use with all major features.

Aven will demonstrate the Cyclops Digital Microscope at Booth 4116 of Pittcon from March 2-6 at McCormick Place in Chicago.

For more information, call (734) 973-0099. A digital catalog is at www.aventools.com/print-and-web-materials.

Aven, Inc. manufactures and distributes high-performance optical instruments and precision tools for microscopy, inspection and assembly. More than 800 products include video inspection systems, integrated portable microscopes, video borescopes, task lights and stainless steel tools for lab use and precision hand tools such as tweezers, pliers, cutters, screwdrivers, crimpers, knives and alignment tools. Brands include Mighty Scope, iLoupe, Miruc, Carton, Technik and Accu-Tek.

A technology innovator since 1983, Aven is located in a high-tech corridor of Southeast Michigan.
More from Electronic Components & Devices