Digital Indicators support 2 point difference measurement.
Press Release Summary: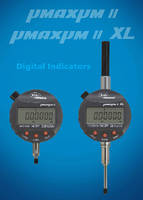 Featuring gasketed case, crystal, and stem assemblies, µMaxum II Series resists fluid contamination. Resolution is selectable in increments down to 0.00001 in. to accommodate application requirements. Two point difference measurement allows comparison of different readings or calculation of measured values. Multiple Factor for ratio measurements allows chordal-type measurements, useful for making ID/OD measurements using V plate, or for gauge fixtures using lever-type non-direct contacts.
---
Original Press Release:

Mahr Federal To Feature Next Generation µMaxµm® Digital Indicators At EASTEC



PROVIDENCE, RI - Mahr Federal will be featuring the next generation of its well-established µMaxµm® line of digital indicators at EASTEC, March 17-19, 2011, at the Eastern States Exposition, West Springfield, MA. Mahr Federal will occupy booth #3019.

In addition to the many existing features of µMaxum indicators, the enhanced µMaxum II line offers a wide range of new features, including: Dynamic Max, Min, TIR; two point difference measurement; Multiplier Factor for ratio measurements; indicator serial number identification; resolution to 10 µin; selectable continuous output; and longer battery life.

"µMaxum Indicators have been standard equipment for QC operations for nearly a generation," said Paul Mailloux, Manager of Precision Gages for Mahr Federal. "Now, based on new transducer technology with increased 10 µin resolution, µMaxum II indicators approach the accuracy of higher end amplifier systems. These are by far the most versatile and complete digital indicators ever."

Versatility of the new µMaxum II indicators is enhanced in a number of ways. Resolution is selectable in increments from 0.001 in/0.02 mm down to 0.00001 in/0.0002 mm to accommodate differing application requirements. Two point difference measurement allows comparison of different readings or calculation of measured values. The addition of Multiple Factors for ratio measurements allows chordal-type measurements, useful for making ID/OD measurements using a V plate, or for gage fixtures using lever-type non-direct contacts.

The new µMaxum II line of Digital Indicators is available in two models, the µMaxum II, and the µMaxum II XL which provides longer measuring ranges. Weighing as little as 6 oz, all µMaxum units are lightweight and ruggedly built to withstand hard use. The gasketed case, crystal, and stem assemblies resist fluid contamination.

Also on display at Mahr Federal's EASTEC booth #3019 will be:

o The new MarCheck measuring and evaluation unit for Mahr's high precision Linear 100 universal length measuring instrument. MarCheck allows both measurements and calibrations to be performed quickly and reliably at the touch of a button.

o A new generation of its popular line of MarCal digital calipers. Included are a number of innovations, such as lapped guideways, a new Reference System which retains the zero position setting, and an increased number of product options and accessories.

o The new Digimar® 816 CL Height Gage which provides highly accurate measurements without complicated procedures. Robust design and user-friendly operation combine with advanced features and functionality to improve dimensional measurement on the shop floor or in the lab.

A full range of other Mahr Federal handheld gages and other dimensional metrology products will also be on display.

Mahr Federal Inc., a member of the Mahr Group, is celebrating its 150th year of providing dimensional measurement solutions to fit customer application needs. The company manufactures and markets a wide variety of dimensional metrology equipment, from simple and easy-to-use handheld gages to technically advanced measurement systems for form, contour, surface finish and length. Mahr Federal is also well known as a producer of custom-designed gages and a provider of calibration and contract measurement services. Mahr Federal's calibration system is accredited to ISO/IEC 17025:2005 NVLAP Lab Code 200605-0. For more information visit www.mahr.com