Digital In-Ear Headset targets industrial environments.
Press Release Summary: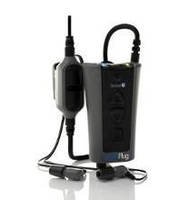 With 82 dB noise limited in-ear and in-ear voice pick up microphone, smartPlug™ allows wearer to clearly pick up speech from inner ear canal. SENS™ technology enhances speech and suppresses noise, enabling users to communicate safely in high-noise environments, while effectively maintaining 360° situational awareness. Offering disposable foam or silicone ear tip options, smartPlug™ also provides up to 31 dB NRR level of protection. Unit runs on rechargeable batteries for up to 15 hours.
---
Original Press Release:

Sensear smartPlug(TM) - Speech Enhancing, Noise Suppressing (SENS(TM)) In-Ear Headset for Industrial Environments



PERTH, Australia, -- Sensear, a global leader in developing and manufacturing best-in-class digital communication headsets, announced the release today of their new smartPlug(TM).( )The Sensear smartPlug(TM) is a digital in-ear-headset solution for use in some of the world's largest industries, where high noise and extreme environments are part of the everyday challenges to communications, hearing protection, and situational awareness.



The smartPlug(TM) features an innovative ground-up design; including 82dB noise limited in-ear and in-ear voice pick up microphone allowing the wearer to clearly pick up speech from the inner ear canal. Equipped with Sensear's industry-leading SENS(TM) technology that enhances speech and suppresses noise, users of the smartPlug(TM) are able to communicate safely in high-noise environments, while effectively maintaining 360-degree situational awareness.



This solution-based design addresses the existing challenges of communication in high noise by transmitting through workers existing communication systems via cable or Bluetooth connections for increased clarity of sound, productivity and safety. Additionally, the new smartPlug(TM) provides up to a 31dB NRR level of protection - suitable for some of the loudest industrial noise environments anywhere in the world. The smartPlug(TM) allows for more freedom of movement, increased safety and is now a market changing solution for users with respirator PPE requirements in their workplace, or simply for those users preferring an in-ear headset for their communications solution.



"We are extremely excited about the introduction of the smartPlug(TM)", said CEO Peter Larsson, "The smartPlug(TM) is unlike any other in-ear headset on the market today and provides an effective solution for so many challenges in high noise industries."



The new unit's rugged design comes with a belt-clip for the users ease-of-wear, as well as dual inline push-to-talk (PTT) buttons allowing for easy triggering of the PTT and other communication functions. The new smartPlug(TM) includes disposable foam or silicone ear tip options for user comfort, and a rechargeable battery with 15 hours battery life, lowering the total cost of ownership compared to AA batteries.



To learn more about the new smartPlug(TM), or see a demonstration, visit us at IWCE 2015 Booth # 1952, March 16th to 19th 2015, located at the Las Vegas Convention Center in Las Vegas, NV or at www.sensear.com/smartPlug



CONTACT: Ona Blanchette, t: +1 (603)589-4072, e: ona.blanchette@sensear.com

More from Agricultural & Farming Products