Digital I/O USB Modules come in pin connector versions.
Press Release Summary: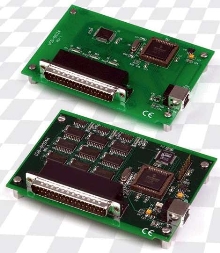 Based on industry standard 82C55, 2.77 x 3.2 x 0.5 in. modules use 37-pin connectors that facilitate switching from PCI to USB in existing applications. Model USB-DIO24/37 offers 24 bits of logic level digital I/O, while USB-DIO24H/37 offers 24 bits of DIO with 15 mA source, 64 mA sink output capability. Both products are USB 1.1 and 2.0 compatible, incorporate 32-bit external event counter, and are supported under MS Windows 98SE/ME/2000/XP.
---
Original Press Release:

Pin Connector Versions of Popular 24-bit Digital I/O USB Modules Offer More Choices at Low Prices


MIDDLEBORO, Mass.-July 19, 2005-Measurement Computing Corporation today announced the release of pin connector versions of two popular USB digitalI/O modules: USB-DIO24/37 and USB-DIO24H/37. The USB-DIO24/37 offers 24 bits of logic level digital I/O; the USB-DIO24H/37 offers 24 bits of DIO with high current (15mA source, 64 mA sink) output capability. Both units use 37-pin connectors and come without a case. The price and specifications of these modules are exactly the same as the screw terminal versions (USB-1024LS, USB-1024HLS).

The genesis of these products was, in part, customer feedback. According to Anthony Nygren, VP of Marketing, "Customers had been saying to us that they were very interested in the ease of connectivity and use of USB, but really didn't want screw terminals, either because they had an existing application that used cables or because their new application was designed to use pin connectors. These products solve that dilemma." Moreover, the addition of these two pin connector products to MCC's USB digital I/O family allows DAQ users to select the connector they need without paying more for a device with multiple connector types.

In addition to the primary specifications described above, the two USB digital I/O products offer the following features:

o One 32-bit external event counter

o Based on industry standard 82C55

o Very small footprint: just 2.77" l x 3.2" w x 0.5" h (70.358 mm l x 81.28 mm w x 12.7 mm h)

Both products are USB 1.1 & 2.0 compatible, and are supported under Microsoft Windows 98SE/ME/2000/XP. Like all MCC products, the USB-DIO24/37 and USB-DIO24H/37 come with an industry-best Lifetime Warranty against manufacturing and material defects.

These new offerings provide USB digital I/O DAQ users with more choices at the same price. With these new products, users can now choose between screw terminals and standard pin connectors to select the connector type that best meets their needs, but they won't have to pay extra to get multiple connector types. The pin connectors also make it easier to switch from PCI to USB in an existing application.

These pin connector products should be of particular interest to OEMs who need digital I/O and have been looking to save time and money and increase the ease of use of their systems by switching to USB, but were hesitant because they didn't want to re-wire. The USB-DIO24/37 and USB-DIO24H/37 eliminate this concern because the pin-outs and connectors are the same as those used on equivalent PCI boards (PCI-DIO24, PCI-DIO24H).

All USB DAQ products from Measurement Computing ship with the following software, included in the price of the hardware:

- TracerDAQ(TM), Measurement Computing's powerful stripchart recorder, oscilloscope, and data logger application.

- SoftWIRE®, the popular graphical programming interface for Visual Studio .NET.

- Universal Library(TM), the powerful language interface that allows users to write programs in all of the popular programming languages using easy-to-understand, high-level command syntax, and to change MCC hardware with very little (usually none at all) rewriting of code.

- UL for LabVIEW(TM), the package of drivers, VIs, and program examples for using MCC hardware in LabVIEW.

- InstaCal(TM), an all-in-one installation, calibration, and test application that simplifies the important initial steps involved in turning a user's PC into a measurement system.

Measurement Computing Corporation is the market leader in the design and manufacture of low-priced computer-based test and measurement hardware and software. These products include USB-based analog and digital I/O devices, Ethernet-based analog and digital I/O devices, analog and digital I/O boards, serial and GPIB interfaces for the USB, PCI, ISA, cPCI, PCMCIA and PC/104 buses, as well as RS-232/485 serial interfaces. The company, founded in 1989, has more than 70 employees and markets its products worldwide through direct sales, a distribution network, and the worldwide web. Visit www.mccdaq.com for more information.

Click below to see the USB Pin Connectors:
measurementcomputing.com/pr/USB_Pin_Connectors.html

Product             Pricing            Status



USB-DIO24/37         $99.00     Shipping in September



USB-DIO24H/37       $149.00     Shipping in September
More from Optics & Photonics