Digital I/O Module doesn't require external power supply.
Press Release Summary: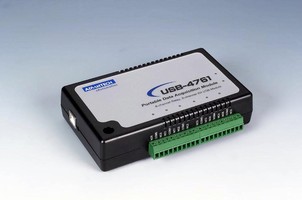 USB-4761 16-channel digital I/O module features 8 form C output relays allowing configuration as NO, NC, or SPDT, with 3 A per channel capacity at 24 Vdc or 250 Vac. Accepting independent wet input from 10-30 Vdc, sinking or sourcing, 8 optically isolated input channels are protected to 2,500 Vdc. Windows software includes configuration utility offering full manual control and development libraries.
---
Original Press Release:

Advantech Launches a USB 16 Channel Digital I/O Module



The USB-4761 is an 8 relay outputs and 8 isolated inputs starting at $275.

(Cincinnati, Ohio - 06/17/2006) - The eAutomation Group of Advantech introduces the USB-4761 with the low cost, high speed, and ease of connection of a USB 2.0 device. The 8 output relays are form C allowing easy configuration as NO, NC, or SPDT, with 3 A per channel capacity at 24 Vdc or 250 Vac. Status LEDs on the face of the module indicate the state of the relay. The 8 optically isolated input channels are protected to 2,500 Vdc. Each channel accepts an independent wet input from 10 ~ 30 Vdc, sinking or sourcing. General ESD protection for the module is 2,000 Vdc. The USB-4761 includes screw terminals on pluggable strip connectors for easy I/O connection. The module is powered by the USB port, does not require an external power supply, and has an LED to indicate power is available.

The USB-4761 comes with ample free software to support the module. Windows based software includes the configuration utility, which also allows full manual control of the module, as well as development libraries for ActiveX controls, DLLs, and LabView. Linux drivers are also provided. The module also supports many configurable features found in more expensive lab I/O such as interrupt support for inputs and retentive power-up default state configuration for output channels.

The USB-4761 starts at $275 and is available for purchase directly from Advantech at 1-800-205-7940 or from one of Advantech's North American distributors at eautomationpro.com/us.

Advantech Corporation, eAutomation Group - Founded in 1983, Advantech is a global leading ePlatform service provider integrating web-based technology, computing platforms and customization services that empower the connected eWorld. Advantech cooperates closely with system integrators to enable them in providing complete solutions for a wide array of apEacplications in various industries. Advantech delivers more than a thousand products and solutions under 3 main categories: Embedded & Applied Computing, Industrial and Network Computing, and eAutomation. With the combined talent of more than 2,000 people, Advantech operates an extensive support, sales and marketing network in 16 countries and 28 major cities to deliver fast time-to-market services to our worldwide customers. US operations for the eAutomation Group, 1320 Kemper Meadow Drive, Suite 500, Cincinnati, OH 45240. Website for Advantech customers in North America: eautomationpro.com/us Email: info@advantech.com


More from Controls & Controllers