Digital High Voltage Meter can be used in lab, field operations.
Press Release Summary: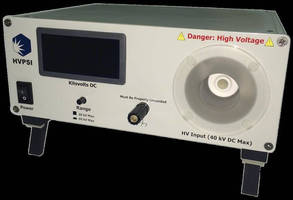 Used for measurement of positive or negative voltages up to 40,000 V, HVM40B features LED display and solid-state design. Dual range measurement provides increased resolution below 20 kV, and 10 giga-ohms input impedance minimizes circuit loading to promote accuracy. Along with various power cords for worldwide use, digital voltmeter features retractable feet, optional tilt handle, and optional rack mount hardware to accommodate environments ranging from lab bench to field.
---
Original Press Release:

HVM40B Digital High Voltage Meter



Carrollton, TX — Dean Technology,  Inc.  today announced  the newest edition  to its HVPSI test and measurement products, the HVM40B.   This digital voltmeter is a low cost option for high accuracy measurement of positive or negative voltages up to 40,000 volts.



The HVM40B has a large LED display, advanced solid-state design, and dual range measurement providing increased resolution below 20 kV.  With retractable feet, and optional tilt handle, and optional rack mount hardware it is ideal  for  use in most any environment  from lab  bench  to  field.    The extremely  high input impedance  (10  giga-ohms)  minimizes  circuit  loading,  providing for accurate  and  trusted  readings.    The HVM40B has CE and ETL certifications confirming to UL and CSA standards, comes standard with various power cords ready for use worldwide.



"The HVM40B is a high quality, high value, reasonable cost meter that will be a big benefit to anyone that works with high voltage," says Craig Dean, CEO of Dean Technology.  "It represents the thinking and vision behind a new line of standard and rapidly customizable products that we are investing heavy research and development in.  This is the first offering from our new HVPSI line, look for exceptional products to come." The HVM40B has standard prices ($949.00 base, $1,049.00 with handle) world wide, and can be purchased directly  from  Dean  Technology,  or  through  any  approved  sales  partner  or  distributor,  available immediately.



About Dean Technology, Inc.

Dean Technology, Inc. (www.deantechnology.com) specializes in the manufacture, distribution and support of high  voltage  components,  assemblies  and  power supplies.  Its  three  main  product  lines  include  HV Component Associates  (HVCA),  CKE,  and  High  Voltage  Power  Solutions  (HVPSI).  The  HVCA  line  of products centers  on  high voltage  diodes,  rectifiers,  bridge  rectifiers, ceramic  disk  capacitors, and  custom assemblies for specific applications. CKE products are a leading line of high voltage and high power silicon rectifiers, MOVs, selenium suppressors, silicon carbide varistors, as well as custom assemblies. The HVPSI product line includes high voltage power supplies, multipliers and  test equipment. Dean Technology's  full family  of  products  provides  complete coverage  of  high  voltage and  high  current  solutions  for  any application. For sales and technical information Dean Technology can be reached at +1.972.248.7691.



Press Contact:

Griffin Caruolo

+1.972.381.7691

press@deantechnology.com

More from Mechanical Power Transmission