Digital Force Gauges utilize motorized test stands.
Press Release Summary: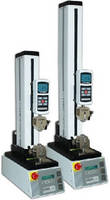 Designed for tension and compression force testing, Series 5 offers range of capacities from 0.12-500 lb with accuracy of better than ±0.1% FS. Motorized test stand Models ESM301/ESM301L, configurable for tension and compression testing applications up to 300 lb, can be controlled from front panel or via computer. Units offer integrated travel indication, overload protection, and host of programmable parameters. Travel distance is 11.5 in. for ESM301 and 18 in. for ESM301L.
---
Original Press Release:

Tension & Compression Testing Now Motorized



Mark-10 introduces their all new Series 5 digital force gauges, designed for tension and compression force testing in quality control, manufacturing, and R&D areas. A range of capacities from 0.12 lb to 500 lb (0.5 N to 2500 N) is available to address numerous applications in virtually every industry, including medical device, pharmaceutical, packaging, consumer products, automotive, aerospace, and others. Accuracy is better than +/-0.1% of full scale. Mark 10 is proud to showcase ESM301/ESM301L MOTORIZED TEST STANDS With PC CONTROL

The ESM301 and the new ESM301L are highly configurable motorized test stands for tension and compression testing applications up to 300 lb (1.5 kN). The stands can be controlled from the front panel or via computer.

The ESM301/ESM301L is engineered on a unique modular platform, allowing for "build-your-own" configurability. Features can be ordered individually at time of order or activated in the field. Integrated travel indication, overload protection, and a host of programmable parameters makes the ESM301/ESM301L quite sophisticated, while its intuitive menu structure allows for quick, simple setup and operation. A password can be programmed to prevent unauthorized changes. With a rugged and modular design, the test stand is a compelling solution for applications in laboratory and production environments.

The ESM301 travel distance is 11.5", while the extended length ESM301L features travel distance of 18". All other specifications are the same.

The force gauge's averaging mode addresses the need to record the average force over time, useful in applications such as peel testing, while external trigger mode makes switch activation testing simple and accurate. An ergonomic design allows for hand held or mounted to a test stand or fixture for more sophisticated testing requirements. The housing may be reversed in order for the load cell shaft to be oriented up or down, while the display and buttons remain upright.

Stnadard features include; Selectable speed units of measurement (in/min & mm/min), LCD display with UP, DOWN, STOP, and emergency stop buttons and soft keys, Password protection of test parameters, to prevent unauthorized changes, Integrated mechanical limit switches, Removable fixture mounting plate with matrix of threaded holes, Stepper motor-driven, produces 0% speed variation with load, Mounting holes for bench mounting, Unique mechanical design significantly reduces column bending.

For more information Contact: Mark Fridman, Marketing Manager, E: mf@mark-10.com
T: 631-842-9200 x13 or visit our website, www.mark-10.com