Digital EMI Receiver/Analyzer suits small- to mid-sized labs.
Press Release Summary: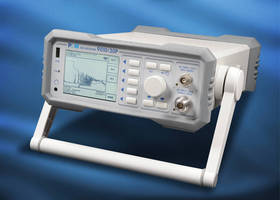 Featuring frequency measurement range of 10 Hz up to 3 GHz, PMM 9010/30P utilizes digital signal processing as well as calibration-free CISPR detectors and IF and RBW filters. It has CISPR 16 detectors including RMS-AVG, C-AVG, and APD, as well as Peak, Quasi-Peak, and AVG detectors. Internal RF signal generator works in tracking mode up to frequency of 30 MHz, allowing device to be used as scalar network analyzer. Portable unit weighs 9 lb and is AC, DC, or battery powered.
---
Original Press Release:

Flexible 3 GHz EMI Digital Receiver from Teseq Offers Cost-Effective Testing Solution for Small to Mid-Sized Laboratories



Edison, N.J. - Teseq Inc., a leading developer and provider of instrumentation and systems for EMC emission and immunity testing, now offers a cost-effective, high-performance digital EMI receiver/analyzer with optimum measurement parameters for those EMC labs that do not require full CISPR compliance for radiated emissions measurements. The new PMM 9010/30P features a frequency measurement range of 10 Hz up to 3 GHz for labs with smaller test chambers, GTEM (gigahertz transverse electromagnetic) cells or doing on-site work, and is fully compliant to CISPR 16-1-1 in the 9 kHz to 30 MHz measurement range. When paired with a PMM extension receiver module, the PMM 9010/30P becomes fully CISPR-compliant measuring up to 6 GHz.

Teseq is the exclusive North American distributor for PMM, a brand of Narda Safety Test Solutions srl, which manufactures the compact modular PMM 9010/30P receiver.

The flexible PMM 9010/30P provides more stable performance than analog receivers. It uses powerful digital signal processing to eliminate aging of critical parts that could degrade measurement accuracy. The CISPR detectors as well as the IF and RBW filters are completely stable and feature lifetime, calibration-free operation. The PMM 9010 series receivers include the latest CISPR 16 detectors, including RMS-AVG, C-AVG and APD, as well as the traditional Peak, Quasi-Peak and AVG detectors. Internal preamplifier, peak limiter and attenuator systems are also included. For the CISPR 16 compliant ranges, an integrated tracking pre-selector is included.

The new receiver is ideal for use in small labs and commercial test labs that have limited budgets, but need to perform fast, reliable, compliant measurements. Using the CLICK option, non-continuous operating household appliances such as mixers and hair dryers can be rapidly pre-tested for compliance to CISPR 14.

Using the unique "Smart Detector" function, the receiver provides fast scanning using only the peak detector. As peaks that exceed the preset thresholds are found, they are immediately measured with the slower detectors before stepping to the next frequency, saving considerable time when compared to rescanning, especially for EUTs (equipment under test) that are only operated for short periods of time.

The PMM 9010/30P EMI receiver comes equipped with the PMM PC Emission Suite software. This unique software offers full control of all auto and manual receiver functions, real-time display, editing of standard limits, creation of correction factors tables and warning messages for incorrect settings. In addition, the software includes one-click operation for selecting measuring mode: swept, spectrum analyzer or tuned. All measurements taken by the receiver can be retrieved, saved, recalled and compared when using PMM's PC Emission Suite software. The built-in GTEM correlation program also makes comparing GTEM radiated emission tests to those performed in an OATS (open-air test site) fast, easy and precise.

The PMM 9010/30P weighs only 9 lbs, is highly portable and can be used in both stand-alone systems and integrated as part of larger systems for manual, semiautomatic and fully automatic testing requirements. The receiver/analyzer is AC, DC or battery powered and includes an AC universal adapter/charger. Typical operation is eight hours conducted, three hours radiated when using the optional plug-in Li-Ion rechargeable battery.

A fully compliant CISPR 14-1 click analyzer option automatically evaluates the click rate N, applies the use of exceptions, if applicable, and provides click measurement using the upper quartile method with a full report that includes all mandatory data. The PMM 9010/30P shows all click details and mandatory reporting parameters in real-time with reports generated via the included PC software application. The PMM 9010/30P's unique "Smart Measure" feature, developed exclusively by Narda, significantly speeds up the click test. The unit can be configured as a single or four channel click analyzer module.

The RF front end is self-calibrated by a high stability internal RF signal generator. Providing 60 to 90 dBuV in 0.1 dB steps, the signal generator can work in tracking mode up to a frequency of 30 MHz enabling the PMM 9010/30P to be used as a scalar network analyzer for characterizing components, antennas and filters. The PMM 9010/30P can also perform spectrum analyzer functions with a very high scan speed of less than 100 ms for full-span 9 kHz to 30 MHz at an IF resolution of 300 kHz.

The PMM 9010/30P starts at $24,100. Delivery is 12 to 16 weeks ARO.

For more information, please visit www.teseq.com or contact MaryJane Salvador, Teseq Inc., 52 Mayfield Avenue, Edison, N.J. 08837. Tel: (732) 417-0501 ext. 239; Fax: (732) 417-0511; E-mail: maryjane.salvador@teseq.com. Web: www.teseq.com.

READER SERVICE INQUIRIES: Please forward all reader service inquiries to MaryJane Salvador, Teseq Inc., 52 Mayfield Avenue, Edison, N.J. 08837.

Teseq was formerly known as Schaffner Test Systems until a management buyout was finalized in November 2006. The company provides EMC instrumentation and systems for radiated and conducted interference in the automotive, consumer electronics, telecommunications, medical, aerospace and defense industries. It has approximately 130 employees and has been accredited to perform calibration services according to ISO 17025 at its Edison, N.J. laboratory. Teseq is the only pulsed immunity manufacturer in North America with an accredited calibration lab.

More from Adhesives & Sealants