Digital Dust Monitor supports use in diverse applications.
Press Release Summary: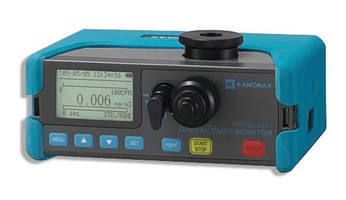 Able to measure particles in PM 10 concentrations, 2.9 lb Kanomax Dust Monitor has 0.1–10 µm particle size range and 0.001–10 mg/m³ measuring range. Instrument logs data for up to 100,000 measurements and allows data transfer via USB, while operation is facilitated via usability-optimized interface and 24+ hr run time with Li-ion battery. Capable of analog and digital output, unit comes with tripod mount for stationery locations or rubber protector and shoulder strap for portable use.
---
Original Press Release:

Digital Dust Monitor



Applications:

•  IAQ Investigations

•  Industrial Hygiene

•  Occupational Health & Safety

•  Contamination Exposure Monitoring

•  Manufacturing Process Control



New Star Environmental is pleased to introduce the Kanomax Dust Monitor that is a quality instrument ensuring highly accurate dust measurements via a user-friendly and intuitive interface.



Particles are measured in concentrations of PM 10.



Applications include office, school, hospital, manufacturing facilities, laboratories, and other applications where measurement of contaminants is required.



Particle size ranges are 0.1 to 10µm. Measuring range is 0.001 to 10mg/m3. Unit has data logging up to 100,000 measurements and USB interface for data transfer.



This compact and light-weight (2.9 lbs.) unit has more than 24-hour run time with Li-ion battery. It is capable of analog and digital output. Comes with a useful tripod mount for stationery locations or a rubber protector and shoulder strap for portable use.



For more information about the Dust Monitor go to: www.newstarenvironmental.com/product/dust-monitor



New Star Environmental

Ph 770-998-0296

www.NewStarEnvironmental.com

email: samlanasa@newstarenvironmental.com