Digital Durometer tests micro hardness of soft elastomers.
Press Release Summary: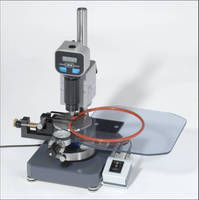 Designed to test elastomer specimens with cross sectional thickness up to 0.275 in., HPE Type M/AM Digital Micro Shore Durometer fully conforms to ASTM D 2240-00 (Type M) and ISO 7619 (Type AM). It can store up to 300 readings and can be connected to PC for statistical analysis and report generation. Requiring minimal application pressure to attain full scale readings, durometer allows for testing production pieces rather than test slabs.
---
Original Press Release:

Qualitest Introduces the New HPE Type M/AM Digital Micro Shore Durometer



The HPE Type M/AM Durometer is the latest addition to Qualitest extensive line of durometers, it features storage of up to 300 readings and can be connected to a PC where statistical analysis and report generation can be performed. The HPE Type M/AM Digital Micro Shore durometer is designed with the end users budget in mind, it meets the demanding needs of modern micro shore measurement and fully conforms to ASTM D2240 and ISO 7619.

Qualitest's Type M/AM Micro-Shore test system are type M (ASTM) and Type AM (ISO) durometers that are designed to test elastomer specimens with a cross sectional thickness up to 8mm (0.275 in). Due to the light load applied to the indenter, test results from this instrument will not indicate the cold flow or creep characteristics of the material you test. Only minimal application pressure is required to attain full scale readings. This allows the user to test production pieces rather than test slabs that rarely reflect the actual hardness value of the finished product.

The HPE Type M/AM Digital Micro Shore Durometer is ideal for accurate, repeatable hardness readings on soft elastomers that are too thin or too irregular in shape for standard Durometers. The HPE Type M/AM Durometer unique design accurately measures specimens with a thickness down to 0.05in. (1.25mm) and minimizes material deformation. The HPE Type M/AM Durometer test method fully conforms to ASTM D 2240-00 (Type M) and ISO 7619 (Type AM). To find out how the HPE Type M/AM durometer can solve your testing needs please visit www.WorldofTest.com/hpe-am-m.htm.

Qualitest offers a wide variety of testing equipment for the rubber and plastics industry. Our complete testing portfolio is available at www.WorldofTest.com and features: Universal Testing Machines for Tensile/Compression/Bending applications, Shore & IRHD Hardness Testers, Rebound Resilience, Vertical Rebound Testers, Abrasion testers, Rheometers, Viscometers, Brittleness Temperature Tester, Salt Spray testers, Aging Ovens and many more.

Company Name: Qualitest USA
Address 1: 3415 Galt Ocean Drive #200
City: Ft. Lauderdale
State: FL
Zip: 33308
Country: USA
Phone: 1.877.884.8378
URL: www.worldoftest.com

Contact Name: Marcus Bergsten
Title: Product Marketing Manager
E-mail: info@qualitest-inc.com

More from Material Processing