Digital Drive delivers 3,000 W for motion control jobs.
Press Release Summary: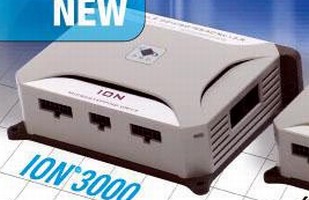 Compatible with dc brush, brushless dc, and microstepping motors, ION® 3000 combines CAN bus and serial communications, power amplification, and Magellan(TM) Motion Control IC in one enclosed package. It accepts commands over network to control trajectory generation, position loop, current loop, and other motion control features. User-selectable profiling modes include S-curve, trapezoidal, velocity contouring, and electronic gearing as well as pulse and direction.
---
Original Press Release:

ION® 3000 Digital Drive Offers High Power for Demanding Motion Control Applications



The ION® product line now has power ranges of 500W and 3000W. This allows a wide range of motor types and sizes to be combined in multi-axes motion positioning applications when using ION Digital Drives.

Lincoln, Massachusetts, USA - Announcing the new ION® 3000 Digital Drive from Performance Motion Devices, Inc. (PMD), the second in PMD's family of high-performance, network-connected motion control drives, designed with PMD's advanced Magellan(TM) Motion Control IC. The ION 3000 expands the capabilities of the digital drive product line increasing voltage and power specifications and adding pulse and direction functionality.

The ION 3000 is a compact module that provides network connectivity, power amplification and advanced motion control features in a rugged, easy to use enclosed package. Both the ION 500 and ION 3000 are available for DC brush, brushless DC and microstepping motors, and are ideal for medical, scientific, semiconductor, industrial, robotic and general automation applications.

Based on PMD's high performance Magellan(TM) Motion Processor, ION Digital Drives provide CAN bus and serial communications, and accept commands over a network to control trajectory generation, position loop, current loop and other advanced motion control features. The ION controls a 3-phase brushless motor using field oriented control or sinusoidal commutation. User selectable profiling modes include S-curve, trapezoidal, velocity contouring, electronic gearing and pulse & direction. Other features include hardware performance trace, on-the-fly profile changes, and PLC-style inputs and outputs.

"ION 3000 is another milestone in PMD's plans to expand our digital drive offering, enabling our OEM design customers to select high performance intelligent motion drives at a wider power range for automation applications. The system integration requirements of motion control continue to move toward intelligent networked modules that offer faster design times when bringing complex and critical motion applications to market. The demands of integration, power, density, cost, and network connectivity are all found in the ION product line resulting in overall performance and design cost value."

- Chuck Lewin, President and CEO
Performance Motion Devices, Inc.

For additional information, visit http://www.pmdcorp.com/motion-control-modules-drives/

For a high resolution image, visit http://www.pmdcorp.com/images/PMD_postcard_hires_03_19_08.jpg

For an HTML version of this release, visit http://www.pmdcorp.com/newsletter/2008_03_Ion.html

Privacy Policy

Uses PMD's advanced Magellan Motion Control IC and Enhanced instruction set
Complete single axis motion module, all digital drive
DC brush, brushless DC and step / microstepping motor versions
CAN bus and serial communications
S-curve, trapezoidal, velocity contouring, pulse & direction and electronic gearing profiles
3000 W power rating
Up to 15 Amps continuous and 30 Amps peak
20 -195 volt single power source
High-efficiency MOSFETs
Selectable 20kHz or 40kHz PWM frequency
102 µsec servo loop rate
Auxiliary encoder input supports gearing & dual loop applications
Position and current loops
Field oriented control
Sinusoidal commutation
Stall detection & auto current reduction
Includes Pro-Motion, C-Motion and VB-Motion software
Separately programmable acceleration and deceleration value changes on-the-fly
Advanced PID filter with velocity and acceleration feedforward
Programmable dual biquad filter
Click here for product specifications
Datasheet

Martin Dugan
Vice President of Marketing
Performance Motion Devices
781.674.9860 ext. 249
mdugan@pmdcorp.com

Performance Motion Devices Inc. (PMD) is a world leader in motion control chips, cards, and modules. PMD provides a full range of high-performance single and multi-axis motion control products for DC brush, brushless DC, and step motors.

Performance Motion Devices
55 Old Bedford Rd
Lincoln, MA 01773
tel: 781.674.9860
fax: 781.674.9861

Visit http://www.pmdcorp.com/

More from Agricultural & Farming Products