Pressure Sensors / Detectors / Transducers
Digital Differential Pressure Sensor measures 5 x 8 x 5 mm.
Press Release Summary: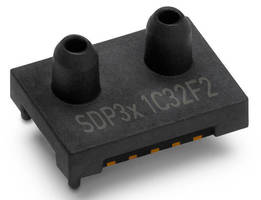 Sized to enhance integration and application possibilities, SDP3x series measures differential pressure (DP) and is also suited for measuring mass flow in bypass configuration. Fully calibrated and temperature-compensated sensors are reflow solderable and include various digital functions. While SDP31 is digital with I²C interface and SDP36 has analog output signal, both are manufactured with CMOSens® chips, exhibit long-term stability, and measure bi-directional flow range up to 500 Pa.
---
Original Press Release:

World's Smallest Differential Pressure Sensor Opens up New Applications



At this year's medical technology trade fair MD&M West, Sensirion, the world's leading manufacturer of high-quality sensors for the measurement and control of humidity, gas and liquid flows, will be showcasing a genuine innovation – the world's smallest differential pressure sensor. Sensirion's new SDP3x digital differential pressure sensor measures just 5mm x 8mm x 5mm and opens up countless new integration and application possibilities, including for the measurement of air flows in medical technology or the consumer goods industry.



The new SDP3x differential pressure sensor is considerably smaller than other sensors in its segment. It can be built into devices which previously lacked sufficient space for any sensory technology at all. Thanks to the small sensor, existing devices can also be made considerably smaller. The new sensor is particularly suitable for portable or mobile medical devices in the field of home care (medical ventilation) or for products in the consumer goods industry.



The SDP3x sensor measures differential pressure and is ideal for the measurement of mass flow in a bypass configuration. And it's not just its small size that's impressive – it also stands out thanks to its accuracy, long-term stability, and no zeropoint drift. The new SDP3x is reflow solderable and available in a pick-and-place package on tape and reel for industrial manufacturing. The small sensor also offers fast signal processing and response time and includes various other digital functions such as multiple I2C addresses and interrupts. All of these new features make Sensirion's SDP3x series differential pressure sensor the perfect choice for cost-sensitive applications requiring high unit volumes.



The fully calibrated and temperature-compensated differential pressure sensors are available in a variety of versions. The SDP31 is digital with an I2C interface, and the SDP36 has an analog output signal. Both versions measure a bi-directional flow range of up to 500 Pa. In 2016, new products with extended measurement ranges and different features will be added to the SDP3x series. The different versions in the SDP3x series cater to all customer needs.



The SDP3x differential pressure sensor is manufactured with the latest generation of Sensirion's CMOSens® chips and is the cornerstone of the new sensor platform for measurement of differential pressure and gas flow. As with all sensors using the patented CMOSens® Technology, the SDP3x also integrates the sensor element and the evaluation circuit into a single CMOS silicon chip. The result is an ultra-precision system that offers long-term stability for sophisticated and cost-sensitive applications.



Visit Sensirion between February 9 and 11, 2016 in Anaheim, CA, USA at the MD&M West trade fair, booth 2282, and learn more about the new differential pressure sensor SDP3x. To find out more about the world's smallest differential pressure sensor, visit www.sensirion.com/sdp3x.



About Sensirion

Sensirion AG, headquartered in Staefa, Switzerland, is the world's leading manufacturer of digital microsensors and systems. The product range includes humidity and temperature sensors, mass flow controllers, gas and liquid flow sensors, and differential pressure sensors. An international network with sales offices in the USA, Germany, China, Taiwan, Japan and Korea supplies international OEM customers with tailor-made sensor system solutions for a vast range of applications. Among other things, these include consumer goods and automobiles, analytical instruments, as well as the medical and HVAC industries. One of the hallmark features of Sensirion products is the use of patented CMOSens® Technology. CMOS-based sensor elements and systems permit intelligent system integration, including calibration and a digital interface. Sensirion's credentials as a reliable OEM supplier are underscored by its ISO/TS 16949 certification.



Contact: 

www.sensirion.com

 info@sensirion.com

Tel. +41 44 306 40 00

Fax +41 44 306 40 30

More from Software