Digital Cutting Services deliver intricate parts.
Press Release Summary: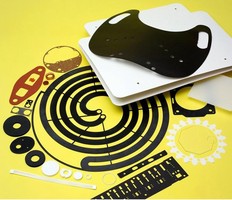 Digital, die-less cutting service is available for creating parts that range from miniatures of less than 1 in. to those up to 60 x 120 in. It works with any non-metallic material, including specialty composites and user-supplied proprietary materials, creating parts with tolerances of ±.005 for dimensionally stable materials under 5 in., ±.010 for those in 5-12 in. range, and ±.015 for materials 12 in. and larger.
---
Original Press Release:

Interstate Specialty Products Announces New Digital Cutting Services



Die-less Solution Delivers Superior Quality and Value

Sutton, MA, September 6, 2006 - Interstate Specialty Products, a leading provider of precision die cutting and specialty gasket fabrication services for science and industry, today announced that it is has begun providing digital die-less cutting services. This new capability offers a range of benefits to customers, including quicker job set up and run time, greater precision, increased flexibility, and lower costs. Interstate Specialty Products is one of the east coast's leading providers of digital cutting services.

Interstate's new digital cutting service can create intricate parts with exceptional edge quality, and tolerances of +/- .005 for dimensionally stable materials under 5 inches, +/- .010 for those in the 5- to 12-inch range, and +/- .015 for those materials 12 inches and larger. Digital cutting is available for parts ranging from miniatures of less than one inch to those up to 60"x 120".

Virtually any non-metallic material can be cut digitally, including plastic, rubber, PTFE, felt, sponge, foamcore, Poron(TM), signboard, gasketing material, and specialty composites. Interstate also offers digital test cutting on proprietary materials provided by customers.

Digital cutting can be used effectively to create a wide range of different products, including printed and plastic display materials, prototypes, gaskets, and insulation kits. Customers with a digital cutting job simply upload their design/artwork as a .dxf or .pdf file to Interstate's FTP server. Prototypes can sometimes be turned around to customers in as little as 24 hours.

Digital cutting delivers complete precision without the added cost and time of dies and handwork, relying instead on a precision cutting path based on the original computer generated design. This fully digital process means greater accuracy and higher quality, and that jobs can be set up and run more quickly, increasing efficiency and reducing costs. Because there are no dies, digital cutting eliminates tooling charges, and is ideal for smaller quantity runs and designs with potential dimension changes.

"Digital cutting is a cost effective, high-quality solution with a wide range of applications - everything from sign boards and printed display materials to gaskets and prototypes," says John Savickas, President of Interstate Specialty Products. "We felt it was important that we offer this service to our customers, and believe that it perfectly complements our other offerings, which include custom die cutting, specialty gaskets, PTFE, and specialty rubber products."

For more information digital die-less cutting and the other services offered by Interstate Specialty Products, please visit www.interstatesp.com or call 800.984.1811.

More from Transportation Industry Products