Digital Crimper handles up to 6 in. hose.
Press Release Summary: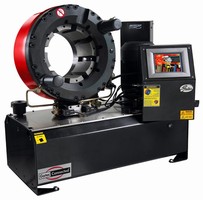 Featuring 2-stage crimping process, foot pedal crimping control, and touchpad, GC96(TM) can crimp up to 6 in. industrial hose or 2 in. hydraulic hose assemblies. Head allows hose assemblies to be made with various terminations using crimpable ferrules and sleeves. For universal applicability, tool automatically converts any local electrical input (208-264 V, 3-phase) into compatible power source. Crimper also features self-diagnostic indicator lights and modular, plug-and-play design.
---
Original Press Release:

New Digital Crimper Handles up to Six Inch Hose



The new GC96(TM) digital crimper from Gates makes producing factory-quality hose assemblies a snap.

The crimper is capable of crimping up to 6" industrial hose or 2" hydraulic hose ssemblies. The large crimper head allows hose assemblies to be made with a variety of terminations using crimpable ferrules and sleeves.

Wherever you are - Brazil, Belarus or Burkina Faso - the GC96 crimper is an ccommodating machine. It automatically converts any local electrical input (208 to 264 volts, three phase) into a compatible power source. Just plug it into a grounded 15-20 amp circuit in Chile, China or Chad and get to work.

This versatile crimper is both fast and easy to use. The foot pedal lets you control the crimping action when you've got your hands full. Release the "Dead Man" pedal and everything stops - instantly. A two-stage crimping process speeds-up cycle time; no small thing when you're making a lot of assemblies.

During the first - or "attack" - stage, the dies close quickly. As the dies make contact with the coupling, the second stage slows down to finish the crimp. When the crimp is finished, the dies don't open up all the way. Instead, they retract only to the preset position you've chosen on the touch pad, wide enough to release the finished assembly and to accept the next hose/coupling for crimping.

Keeping the GC96 crimper in fit condition is easy:
o Every 250 crimps, give the dies a squirt of grease
o Once a year, change the oil
o Add hydraulic oil as needed - about every 10 hours of crimping
o Check the air filter periodically and replace as needed

In the unlikely event the GC96 crimper gets cranky and stops cold, don't kick it or cuss it out. Instead, just remove the control panel. See the lights? Those lights are coded. They're sending you a message. They're telling you what's wrong. Not only that; they're telling you what you can do to fix it. No kidding - the GC96 crimper diagnoses itself.

Don't know the proper crimp settings? No problem. Just download the information you need directly to the GC96 machine. Visit www.gates.com and click on the Gates eCrimp database. It's a Microsoft® Access program where you can find and print all the crimp data for Gates industrial and hydraulic hose.

Gates calls it "plug 'n' play." If the crimper head goes bad, undo a few bolts, take it off and bolt on a new one. Busted power unit? Take it off, blast on a new one. Control panel acting up? Off and on, plug 'n' play.

Ahhh, a touch pad. No buttons to push. No knobs to tweak. No dials to misdial. Just the display screen to:
o Load crimp settings
o Adjust the retract setting
o Start and stop the crimping process

More from Explosives, Armaments, and Weaponry