Digital Calipers support wireless data transmission.
Press Release Summary: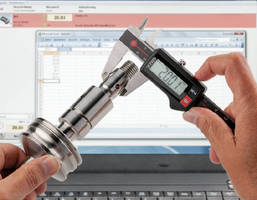 Using wireless technology, MarCal 16 EWRi Digital Calipers can send data to small i-stick receiver resembling USB flash drive. IP67-rated units feature large digital display, lapped guideways, and reference system that retains zero position setting. With MarCom software, users can take measurements and transmit data directly into MS Excel or via keyboard code into any Windows program without cables. It is also possible to apply wireless data collection capabilities to existing SPC applications.
---
Original Press Release:

Mahr Federal To Highlight Digital Calipers And Indicators With Wireless Data Transmission In Special Display At Quality Expo Texas



PROVIDENCE, RI – Mahr Federal will feature its lines of 16 EWRi Digital Calipers and Digital Indicators with MarConnect wireless data transmitters and MarCom software in a special display at Quality Expo Texas, May 7-8, 2014, Fort Worth Convention Center, Fort Worth, TX, Booth #613.



Mahr Federal has built wireless data transmission into its family of MarCal Digital Calipers, making them available for the same price as a typical wired caliper. Using proven wireless technology first developed for MarCator digital indicators, new MarCal digital calipers send data to a small i-stick receiver, resembling a common USB flash drive. MarCom software makes data acquisition even simpler: just take a measurement and transmit your measuring data directly into MS Excel or via a keyboard code into any Windows program without cumbersome cables. It's even possible to apply the 16 EWRi wireless data collection capabilities to existing SPC applications.



With a sleek new-look, MarCal 16 EWRi digital calipers are easier to read with a large clear digital display, and include a number of advanced features, such as lapped guideways, a reference system that retains the zero position setting, and a number of product options and accessories. MarCal 16 EWRi digital calipers are protected against dust and immersion to class IP67. Advanced electronics provide increased battery life and the line is available in a wide range of sizes.



Mahr Federal will also introduce a new video measuring microscope with image processing capability, the flagship product for a new line of Mahr optical measuring instruments, at Quality Expo Texas. Designed for the measurement and/or dimensioning of geometric elements, the MarVision MM 320 incorporates an integrated CCD color camera with zoom lens, a 23" touchscreen PC with keyboard and mouse, and easy to use Windows 7-based M3 software. Automatic edge detection allows even low contrast features to be measured, and a Multi Touch function provides quick and continuous variable magnification using either touchscreen or mouse.



"MarVision optical measuring instruments offer a quick and reliable solution to many different 2D measurement and inspection tasks," said George Schuetz, Director Precision Gages for Mahr Federal. "Applications range from cutting tools and precision products for manufacturing, plastics and medical technology, to miniaturized electronic components. These extremely precise measuring instruments are designed to meet the highest quality and production requirements."



Also on display at Mahr Federal's booth #613 will be:



• Mahr Federal's extremely broad line of MarCal calipers for a wide range of outside, inside, depth, step, and compound measurements.

• Mahr Federal's MarConnect Integrated Wireless data transmission system.

• A selection of Mahr form and surface systems with MarWin 6.0 software platform, including the MarSurf® XR 1 and MarForm MMQ 100 Formtester.

• Mahr Federal's Standard Elements modular-based gaging system with standard components that allow users to configure and implement simple to complex gaging solutions quickly and cost effectively.



A full range of other Mahr Federal handheld gages and other dimensional metrology products will also be on display.



Mahr Federal Inc., a member of the Mahr Group, has been providing dimensional measurement solutions to fit customer application needs for over 150 years. The company manufactures and markets a wide variety of dimensional metrology equipment, from simple and easy-to-use handheld gages to technically advanced measurement systems for form, contour, surface finish and length. Mahr Federal is also well known as a producer of custom-designed gages and a provider of calibration and contract measurement services. Mahr Federal's calibration laboratories are accredited to ISO/IEC 17025:2005 NVLAP Lab Code 200605-0 (see our Scope of Accreditation for accredited calibration processes). For more information visit http://www.mahr.com

More from Materials