Digital Attenuators are available with N-type connectors.
Press Release Summary: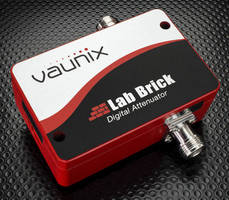 Based on solid-state attenuator technology, LDA series of Lab Brick® Digital Attenuators includes 50Â Ω RF step attenuators. These units connect to USB port for control and power and do not require any additional DC supply voltage. Programmable for fixed attenuation or swept attenuation ramps directly from included GUI, products include 1–1,000 MHz LDA-102N; 6–6000 MHz LDA-602N; and 10–3000 MHz, 2 W LDA-302P-HN/-1N/-2N with respective values of 0.5, 1.0, and 2.0 dB.
---
Original Press Release:

Vaunix Announces LDA Digital Attenuators Now Available with N-Type Connectors



Haverhill, MA – Vaunix Technology Corporation, (www.vaunix.com), a manufacturer of USB controlled and powered test equipment, has announced additions to their LDA Digital Attenuators line. Five of their LDA Digital Attenuators are now available with N-Type Connectors.



The LDA series of Lab Brick® Digital Attenuators includes 50 Ohm RF step attenuators with calibrated operation up to 6 GHz. These units connect to a USB port for control and power and require no additional DC supply voltage. They are easily programmable for fixed attenuation or swept attenuation ramps directly from the included GUI. Lab Brick Digital Attenuator API DLL and LabVIEWcompatible drivers are also available for custom programming applications.



Lab Brick Digital Attenuators are ideal for engineering and production test laboratories as well as integration into high speed automatic-test-equipment (ATE) systems. They can also be used in development of low-cost fading simulators for Multiple Input Multiple Output (MIMO) and Single Input Multiple Output (SIMO) communication systems such as WiMAX, 3G and LTE. They are based on solid state attenuator technology for excellent repeatability of attenuation values.



The new models include: LDA-102N, .1-1000 MHz; LDA-602N, 6-6000 MHz; LDA-302P-HN, 10-3000 MHz, 2 watts, 0.5 dB; LDA-302P-1N, 10-3000 MHz, 2 watts, 1.0 dB; and LDA-302P-2N, 10-3000 MHz, 2 watts, 2.0 dB.



For more information on Vaunix and their LDA series digital attenuators, go to: http://vaunix.com/products/digital-attenuator/overview.cfm



About Vaunix

Based in Haverhill, Massachusetts, Vaunix Technology Corporation designs, manufactures, and services RF and microwave test equipment and communications products. Their Lab Brick product family sets a new standard for cost, size, and simplicity for microwave test equipment.



Company Contact:

Scott Blanchard

Vaunix Technology Corporation

VaunixSales@vaunix.com

978-662-7839



Agency Contact:

Molly Heyward

Strand Marketing

mheyward@strandmarketing.com

978-463-0780



Vaunix Technology Corp. • 242 Neck Road • Haverhill, MA • 01835 • Phone: 978-662-7839

More from Controls & Controllers