Digital Ambient-Light Sensor has 4,000,000:1 dynamic range.
Press Release Summary: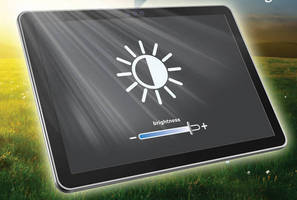 Model MAX9635 integrates 2 photodiodes, ADC, and adaptive gain block that automatically selects optimum gain range, eliminating need for manual programming, in 2 x 2 mm package. Unit features 4,000,000:1 dynamic range to ensure precise lux readings in all ambient-light conditions. Featuring 0.65 µA operating current, it consumes as little as 1.1 µW and operates from 1.7-3.6 V supply voltage, over -40 to +85°C temperature range. Product measures light levels from 0.045-188,000 lux.
---
Original Press Release:

Maxim Enters the Optical Sensor Market with the Industry's Highest Performance Ambient-Light Sensor



o The MAX9635 is a digital ambient-light sensor (ALS) that combines two photodiodes, an ADC, digital functionality, and an I2C interface in a tiny 2mm x 2mm package.

o This ALS consumes 100x less power than the nearest competitive product and offers an interrupt function to further reduce power consumption.

o An integrated adaptive gain block gives it the industry's widest dynamic range (4,000,000 to 1), which translates into an industry-best 0.045 to 188,000 lux range.

o Additionally, adaptive gain control eliminates the need for manually programming the gain range, thus easing system design.

o The MAX9635 is well suited for tablet and notebook PCs, smartphones, TVs, digital lighting-management systems, and light-intensity monitoring applications.

Maxim unveils a digital ambient-light sensor that consumes 100x less power than the closest competitor and boasts an industry-best 4,000,000 to 1 dynamic range.

SUNNYVALE, CA - Maxim Integrated Products (NASDAQ: MXIM) introduces the MAX9635, a fully integrated digital ambient-light sensor (ALS) with a unique adaptive gain block. Designed using the Company's proprietary BiCMOS technology, this device integrates two photodiodes, an ADC, and all necessary digital functionality into a tiny 2mm x 2mm package. This integrated solution saves valuable space in tight enclosures while delivering the industry's highest performance. The MAX9635 consumes 100x less power than the nearest competitive product, significantly extending battery life. Additionally, it offers an industry-best 4,000,000 to 1 dynamic range to ensure ultra-precise lux readings in all ambient-light conditions.

The MAX9635 is ideally suited for tablet and notebook PCs, smartphones, TVs, digital lighting-management systems, and light-intensity monitoring applications.

Ambient-light sensing saves battery life and improves display performance
Ambient-light sensors are increasingly used in a variety of display and lighting applications to save power and improve the user experience. With ALS solutions, system designers can automatically adjust display brightness based on the amount of ambient light. Since backlighting accounts for a significant portion of the system's power budget, dynamic brightness control can translate into substantial power savings.

Accurate measurement of visible light

Replicating the optical response of the human eye with electronic components is difficult. Traditional light sensors measure the amount of light in an environment regardless of wavelength. These designs are unduly influenced by ultraviolet and infrared light, which are not perceptible by the human eye. This leads to inaccurate ambient-light readings and, therefore, widely varying brightness adjustments. This problem is only exacerbated by the fact that light sources can have different spectra; for instance, incandescent light has more infrared content than fluorescent light.

Maxim's BiCMOS technology enables the integration of two photodiodes along with an optical filter to reject ultraviolet and infrared light. This allows the MAX9635 to replicate the optical response of the human eye and accurately measure visible light in a variety of environmental settings. Advanced algorithms correct for any spectra variations between light sources, ensuring an extremely accurate lux response.

Industry's only adaptive-gain technology provides the widest lux measurement range
Ambient-light sensors require the widest dynamic range possible to support a broad spectrum of light conditions, from direct sunlight to complete darkness with every variation in between. Even in digital light sensors, the gain has to be set to a certain value to address different modes of operation in multiple light scenarios. This added configuration requirement increases both design complexity and time to market.

The MAX9635 is uniquely equipped with an adaptive gain block that automatically selects the optimum gain range. This capability relieves designers of the time-consuming process of manually programming the device. Additionally, the adaptive gain block provides the industry's widest dynamic range (more than 4,000,000 to 1), enabling the MAX9635 to measure light levels from 0.045 lux to 188,000 lux. Simply stated, this innovation delivers the most precise lux measurements over the widest range of ambient-light conditions.

As an added benefit, the device's low-light sensitivity makes it suitable for applications in which the sensor IC is placed behind black glass, which greatly reduces the amount of ambient light.

MAX9635 cuts power consumption by 100x

The MAX9635 is designed to meet the tightest of power budgets. The device's minuscule 0.65microamp operating current is lower than the power-down current of many competitive products, and it operates from an industry-low 1.7V to 3.6V supply voltage. Consuming as little as 1.1microwatts of operating power, the MAX9635 uses 100x less power than the nearest competitor (124microwatts).

The MAX9635 is the only light sensor in the industry that can operate from 1.8V, allowing it to be powered by the same 1.8V supply as the I2C interface. This helps reduce power consumption and lowers complexity by only requiring a single voltage rail for the part. An address pin allows the use of two sensors on the same I2C bus.

A built-in interrupt function extends these power savings by reducing the frequency of I2C communications. With this technique, the light sensor only initiates communication with the microcontroller when the ambient-light measurement exceeds the programmed threshold. This eliminates the need to constantly poll the sensor, thus offloading the processor and conserving power.

Additional information

Designed for the tight space requirements of portable systems, the MAX9635 is offered in an optically transparent, lead-free, 2mm x 2mm x 0.6mm, 6-pin UTDFN-Opto-EP package. It is fully specified over the -40 degrees Celsius to +85 degrees Celsius extended temperature range. Pricing starts at $1.20 (1000-up, FOB USA). For more information, please visit: www.maxim-ic.com/ALS.

Maxim Integrated Products is a publicly traded company that designs, manufactures, and sells high-performance semiconductor products. The Company was founded over 25 years ago with the mission to deliver innovative analog and mixed-signal engineering solutions that add value to its customers' products. To date, it has developed over 6400 products serving the industrial, communications, consumer, and computing markets.

Maxim reported revenue of approximately $2.0 billion for fiscal 2010. A Fortune 1000 company, Maxim is included in the Nasdaq 100, the Russell 1000, and the MSCI USA indices. For more information, go to www.maxim-ic.com.

DATA SHEET: A Data Sheet for this product is available on the web.
http://www.maxim-ic.com/MAX9635

Drew Ehrlich

Senior Public Relations Specialist

Maxim Integrated Products

Email: drew@maxim-ic.com

Phone: 408-331-4252

Fax: 408-331-4132

More from Test & Measurement