Differential Pressure Gauges handle harsh environments.
Press Release Summary: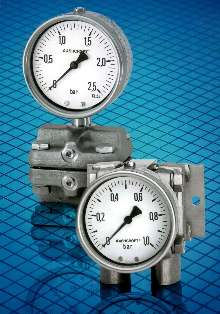 Ashcroft® Types 5503 and 5509 withstand all types of weather conditions while measuring very low differential pressure. Type 5503 can handle static pressures up to 3,625 psi. Both utilize stainless steel diaphragm-sensing element to protect against corrosive processes. Gauges come in psid, millibar, bar, and in. of water ranges with or without electric contacts. Type 5503 has 1.6% FS accuracy with ½% upscale accuracy option; Type 5509 has accuracy of 2.5% FS.
---
Original Press Release:

Rugged, High-Performing Ashcroft® Instruments Measure Low Differential Pressure in Harsh Environments


The Ashcroft® Types 5503 and 5509 with high-static pressure capability, have been built to withstand all types of weather conditions while measuring very low differential pressure.

These rugged Ashcroft® gauges are ideal for offshore drilling, power plants and other difficult pressure measuring applications. The Ashcroft® 5503 can handle static pressures of up to 3,625 psi. Both gauge types utilize a stainless steel diaphragm-sensing element to protect the gauge from corrosive processes; the Type 5503 offers the option of Monel or Hastelloy C wetted materials. Duratherm 600® is used for pressures under 15 psid.

These gauges come standard with an external zero-adjust feature and users can choose from various case styles and materials, fill-fluids, and mounting options to match the requirements of the particular application.

The Ashcroft® Types 5503 and 5509 can be ordered in psid, millibar, bar or inches of water ranges with or without electric contacts. The Type 5503 has a 1.6% full scale accuracy with a 1/2% upscale accuracy option; the Type 5509 has an accuracy of 2.5% full scale. They are available in 4" or 6" dial sizes.

For more information about other product options, call 1-800-328-8258 or visit www.ashcroft.com.

Duratherm 600® is a registered trademark of Vacuumschmeize GmbH

Dresser Instruments manufactures gauges, thermometers, switches transducers, transmitters, data loggers, calibration equipment and isolators for pressure measurement and control Product brands include Ashcroft®, Heise®, Willy®, ebro(TM) and Weksler®. Dresser Instruments is part of Dresser, Inc. Headquartered in
Dallas, TX Dresser, Inc is a worldwide leader in the design, manufacture and marketing of highly-engineered equipment and services sold primarily to customers in the flow control, measurement systems and power systems segments of the energy tndustry Dresser has a widely distributed global presence with over 7,500 employees and a sales presence in over 100 countries worldwide The company's website can be accessed at www.dresser.com Copyright Dresser, Inc 2003

More from Test & Measurement