Gas and Chemical Sensors / Detectors
Differential pH/ORP Sensor uses 3 electrodes for max accuracy.
Press Release Summary: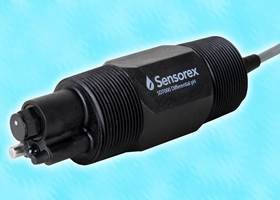 Serving industrial and municipal wastewater treatment applications, SD7000 Series measures solution pH differentially with process (outer hemi glass) and inner reference (surrounded by known concentrated pH 7 buffer) electrodes as compared to third ground electrode for optimal accuracy. This also minimizes reference junction potential and eliminates sensor ground loop effects. Encapsulated preamp eliminates moisture problems, and design allows mounting up to 3,000 ft from pH/ORP monitors.
---
Original Press Release:

Sensorex Introduces Differential pH/ORP Sensor Series



SD7000 Series pH/ORP Differential Sensors from Sensorex ideally suited to challenging industrial and municipal wastewater treatment applications



Garden Grove, California — Sensorex's new SD7000 Series Differential pH/ORP Sensors offer water, wastewater and process plant operators a new measurement method based on proven sensor technology. Sensorex's differential sensors deliver more accurate results with lower overall cost of ownership than conventional sensors. The SD7000CD model is a direct replacement for Hach® GLI and Aquametrix analog 5-wire pH and ORP sensor models.



The differential electrode technique employs three electrodes instead of the two found in conventional combination pH and ORP sensors. Solution pH is measured differentially with process (outer hemi glass) and inner reference (surrounded by a known concentrated pH 7 buffer) electrodes compared to a third ground electrode. This provides optimal measurement accuracy, minimizes reference junction potential, and eliminates sensor ground loop effects. Differential sensor design results in less maintenance for operators, minimized down time, longer sensor life and overall greater reliability.



The SD7000 sensors' encapsulated preamp eliminates moisture problems for unmatched accuracy and reliability. The design allows mounting up to 3000 feet from installed pH/ORP monitors. Equipped with 1.5" NPT convertible threads, sensors can be mounted into flow tees or adapted to a pipe for process submersion.



The Ryton sensor body is highly chemical- resistant. The double-junction reference resists contamination to ensure measurement stability. To reduce the possibility of contamination of the internal reference electrode, it is electrically connected to the process solution with a field-replaceable double junction salt bridge. The salt bridge and standard pH 7 cell solution can be replaced periodically at a very low cost, making the SD7000 differential sensor very economical to maintain.



Sensorex SD7000 Series Differential pH/ORP Sensors are ideally suited for industrial and municipal wastewater treatment and neutralization, metal finishing and plating, wet fume scrubbers, chemical processing, and other online water quality and process applications.



The SD7000 Series Differential pH/ORP Sensors will debut at WEFTEC September 29 – October 1, 2014 (New Orleans, La.). To learn more, visit Sensorex's exhibit at booth 4410. Alternatively, visit www.sensorex.com, email sales@sensorex.com, or call +1 714-895-4344.



*Hach is a registered trademark of the Hach Company. Aquametrix is a product of Water Analytics Inc. No affiliation, endorsement or sponsorship is stated or implied.



A high resolution file of the photo above may be downloaded from:

http://halmapr.com/sensorex/SD7000Release.jpg



Visit Sensorex's online news archive at: http://halmapr.com/news/sensorex/



About Sensorex:

Sensorex is a global leader in design and manufacture of quality sensors for water applications. The company offers more than 2000 sensor packages for pH, ORP, dissolved oxygen, free chlorine, chlorine dioxide and other specialty measurements, as well as a full line of sensor accessories. Its expert technical support engineers solve analytical sensor challenges with custom designs and off the shelf products. Headquartered in California, with a global distributor network, Sensorex is a subsidiary of Halma plc, an international market leader in safety, health and sensor technology.



Follow Sensorex on:

Follow Sensorex on Twitter      

Follow Sensorex on YouTube      

Follow Sensorex on Facebook      

A Halma Company



Company Contact:



Sensorex

11751 Markon Drive

Garden Grove, CA 92841 USA

Tel: +1.714.895.4344

Fax: +1.714.894.4839

Email: sales@sensorex.com

Website: www.sensorex.com



Press Contact:

Halma Holdings PR Services

Lisa Wallner

11500 Northlake Drive, Suite 306

Cincinnati, OH 45249

Tel: +1 513.326.8045

Fax: +1 513.772.5507

Email: lisa.wallner@halma.com

Website: www.halmapr.com

Related